Last year, Apple introduced a one terabyte edition of the iPhone 13 Pro. And rumor had it that Samsung will be responding with a 1TB Galaxy S phone of their own. Unfortunately, the many leaked infographics never revealed this storage variant. But an industry source has reported it's coming after all, but there's a caveat.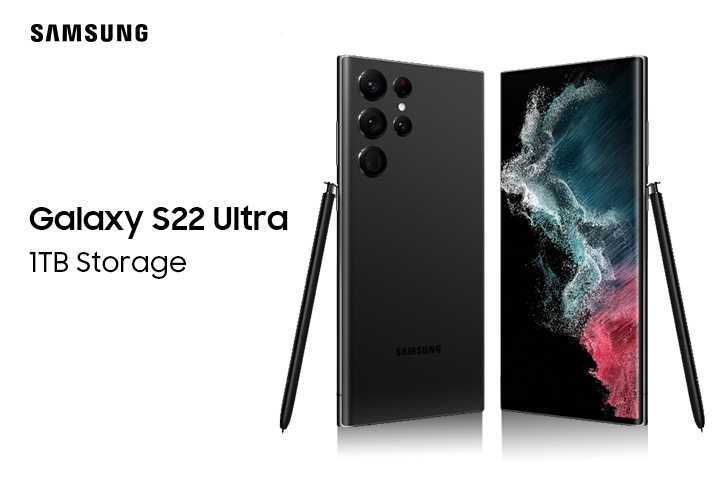 Courtesy of Roland Quandt of WinFuture.de, we learn that Samsung has a 1TB version of the Samsung Galaxy S22 Ultra 5G lined up for debut soon. But it will be exclusive to specific markets — presumably the U.S. and some European countries.
Note that this isn't the first time Samsung is introducing a 1TB storage option for a Galaxy S phone. Three years ago, the Galaxy S10+ came in a 12GB+1TB variant. But the fully specced-out Galaxy S22 Ultra rocks a 16GB+1TB configuration.

To review the rest of the details, the latest Ultra Samsung mobile will also be offered in 128GB+8GB, 256GB+12GB, and 512GB+12GB variants. It has a 6.8" QHD+ Dynamic AMOLED screen. And it features a 120Hz refresh rate and peaks at an eye-searing 1750 nits of brightness (the brightest on any Android phone.) In addition, the new LTPO 2.0 panel adjusts the refresh rate more smoothly and efficiently.
Everything runs on a 5000 mAh battery and 45W charging support. It delivers a 70% top-up in just 30 minutes. Exynos 2200/Snapdragon 8 Gen 1 handles the number-crunching.