Samsung's Galaxy S22 series is perhaps their most extensively leaked line of flagship phones yet. At least two comprehensive reports have given us every imaginable detail for S22 phones. But the rumor mill continues to publish more leaks — the latest in this string reconfirms the battery and quick charging specs.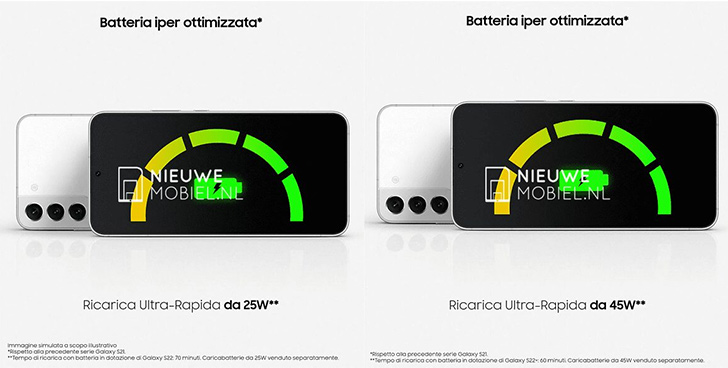 In the past couple of years, Samsung has fallen behind the industry standard regarding charging speeds. 60W+ charging is commonplace in the world of Android these days. But Samsung phones have been capped at 25W. At least until now, because the Galaxy S22 Ultra and Galaxy S22+ rock 45W charging support.
However, the baseline Galaxy S22 is still limited to 25W. Samsung has also trimmed the battery size this year. Instead of a 4000 mAh cell, the S22 is backed by a 3700 mAh battery. The supported 25W brick takes 70 minutes to give you a 100% top-up.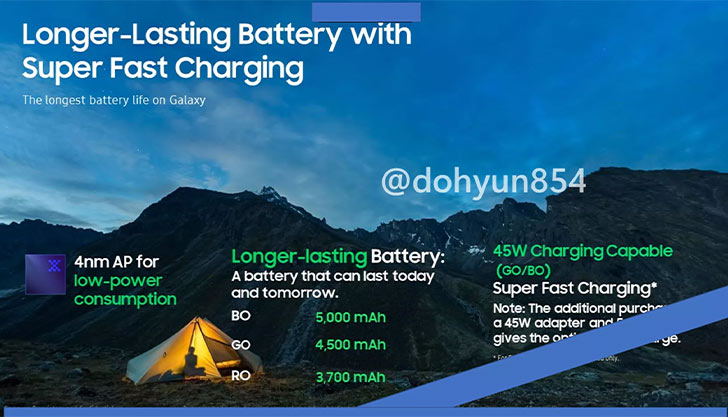 The Samsung Galaxy S22 Plus uses a 4500 mAh battery, while the S22 Ultra is powered by a 5000 mAh cell. The upgraded charging support cuts the charging duration down to 60 minutes. When combined with the new chip's thinner 4nm process node, the battery life should improve.
There's an important caveat to note here. Starting with the Galaxy S21 series, Samsung has removed the charging brick from the retail box. As a result, the S22 series will also lack an in-the-box charger. So while the charging power has been upped to 45W, you will need to buy a new adapter to take advantage.