Get excited; with September 2022 event wrapped up, Apple has finally revealed its lineup for the next-generation iPhones. Sitting in the stack are four new handsets, the iPhone 14 Pro, the iPhone 14 Pro max, the iPhone 14, and, more importantly, the iPhone 14 Plus, which made a surprise appearance — cropping the Mini iPhone out of the picture.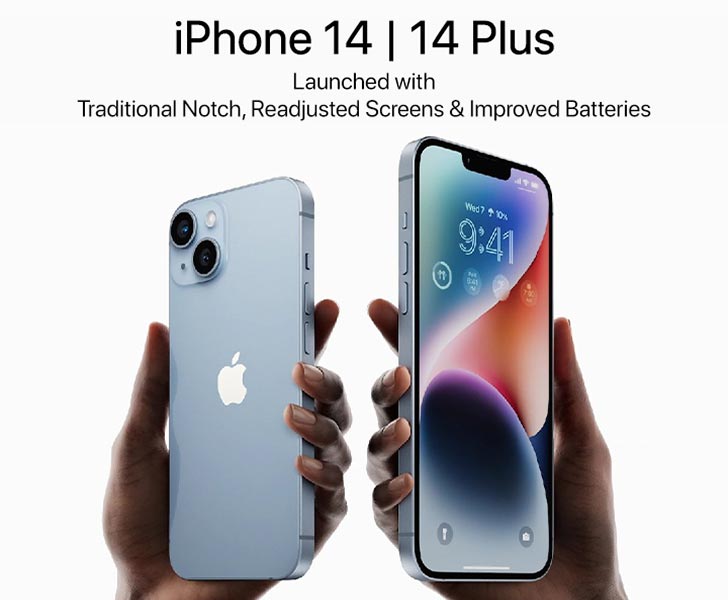 As you may recall, a Plus in Apple's language usually refers to a bigger battery and screen. Apple's move to reinstate the Plus edition has diminished the divide between the base and Pro Max iPhone screen sizes. However, the upper notch can still discern the latest phones. Here's an outline of the new features packed inside the iPhone 14 and 14 Plus.
From the get-go, the screen size strikes the eyes first. There is a 6.1-inch screen on the simple iPhone 14, while the Plus boasts a bigger 6.7-inch view. Both are Super Retina XDR OLED builds with Scratch-resistant ceramic glass + oleophobic coating protection.
The latest base iPhone 14 duo has Apple's iconic notch, but it's slightly trimmed compared to last year's iPhone 13 roundup. The front camera's true-depth sensor is also the same as last year. Even Apple's A15 silicon gets reused here (though with a 15% improvement in GPU performance).
The bigger size of the Plus iPhone 14 means a bigger battery, but the exact capacity is unknown. "The best battery life," as Apple calls it, might be the same as the Pro Max model.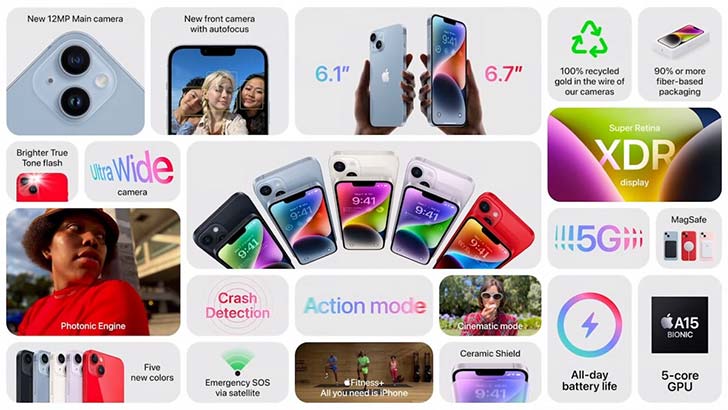 The base new iPhone model still uses the 12MP camera units (diagonal wide + ultra-wide), but this time, with their improved aperture, low-light performance will take a massive hike. Apple claims a 49% improvement in night photography. The selfie camera gets a 38% low-light quality boost.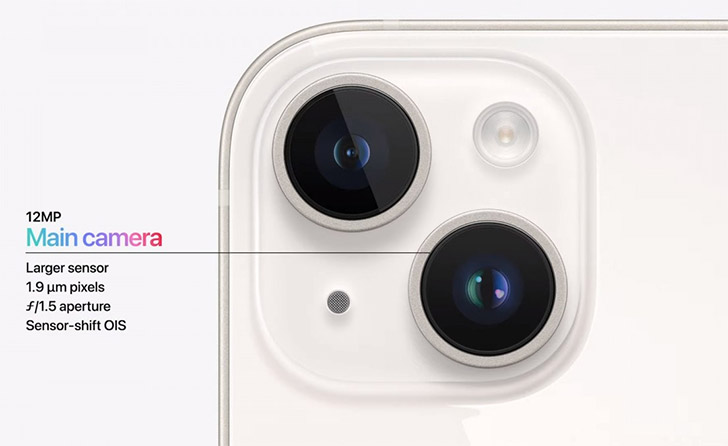 Per the Apple-assigned price tag, the Plus iPhone 14 variant starts at USD 899, and the simple iPhone 14 starts at USD 799. Both will begin the pre-orders on September 9th. iPhone 14 will be available by September 16th, while iPhone 14 Plus will go out on October 7th.
Here are some new & improved features added to the iPhone 14 lineup. Emergency SOS via Satellite, the holy grail of connectivity. MagSafe, Photonic engine, and Action mode. Crash detection, where iPhone uses sensors, cameras, and mic to sense if the user got into an accident and take action accordingly. All iPhone 14's feature 5G, HDR10 screens, and IP68 dust & water protection.