Galaxy A03 series is the latest line of entry-level phones from the Korean phone maker. It already features the Samsung Galaxy A03s and the Galaxy A03 Core. And now the baseline Galaxy A03 is here to round off the lineup.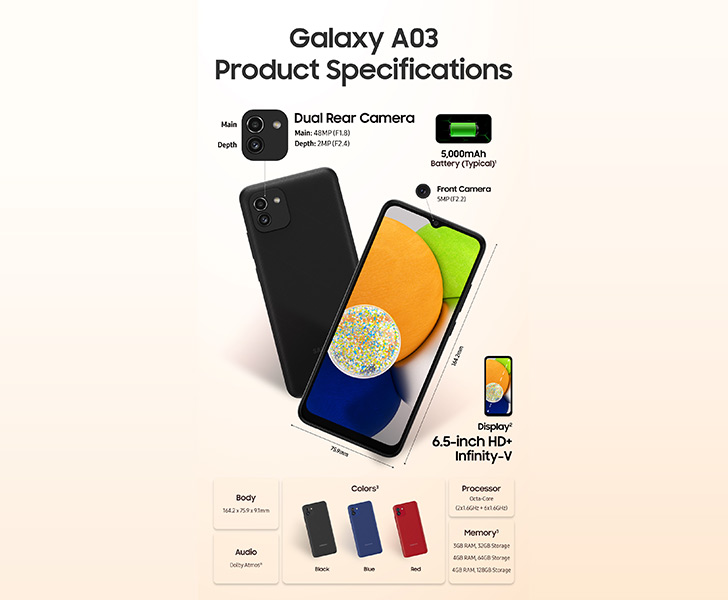 The Samsung Galaxy A03 was launched via a press release that contains the detailed product specs for the phone. First off, the manufacturer has redesigned the A03 backplate. The camera island is heavily inspired by the iPhone 12 — the two lenses and LED flash inside a rounded rectangle. It comes in Blue, Red, and Black colors (also the three colors of the iPhone 12.)
The screen hasn't changed from the previous generation though. It's a 6.5" notched LCD panel, still peaking at 720P in resolution. The camera embedded in the notch is 5MP. At 9.1mm of depth, the Galaxy A03 also has a heavy footprint.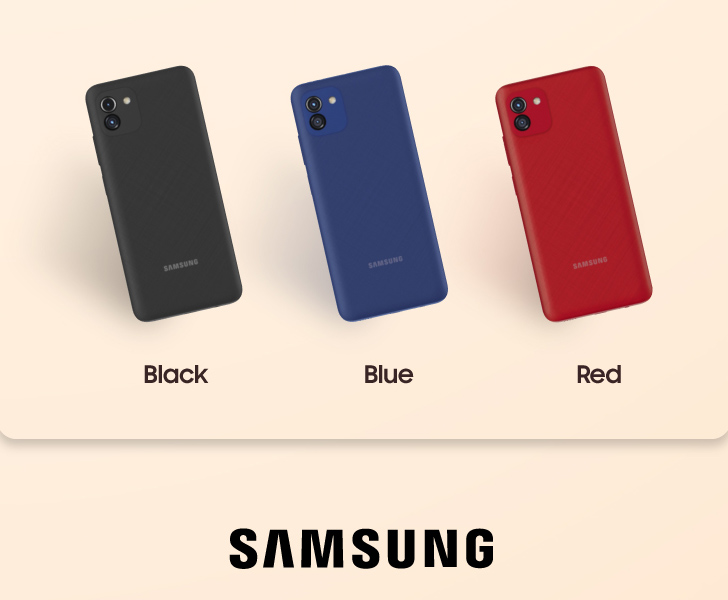 The dual cameras feature 48MP f/1.8 wide and 2MP portrait lenses at an entry-level Samsung mobile price tag. Everything runs on a 5000 mAh battery without any fast charging support. As always, Samsung is reluctant to name the chipset powering the Galaxy A03. But the octa-core CPU is clocked at 1.6GHz.
Dolby Atmos support delivers stereo sound through the audio port. You get 3GB/4GB of memory and 32GB/64GB/128GB of storage — double the top-end Galaxy A02 edition. The pricing and availability details are still a mystery.