The Korean phone maker might soon be coming out with a new edition of the Samsung Galaxy A03 series. Official teasers aren't here yet. But the A03 has been cropping up in the news since August. The phone has already been benchmarked and certified. And Samsung just cleared yet another certification for the Galaxy A03.
Samsung Galaxy A03 was most recently featured on the Wi-Fi Alliance database. You can look the listing up under the model number "SM-A032F/DS." As per the document, the A03 supports the single band old-gen 802.11 b/g/n Wi-Fi standard. Also, the "DS" in the model name means dual SIM connectivity.
Since it's a basic Wi-Fi certification, it doesn't contain any other system specifications. But for those details, we can turn to the string of benchmarks and public reports. The Galaxy A03 will sell at a lower price point than the A03s edition. Instead of MediaTek silicon, the A03 adopts an obscure Unisoc SC9863A chip.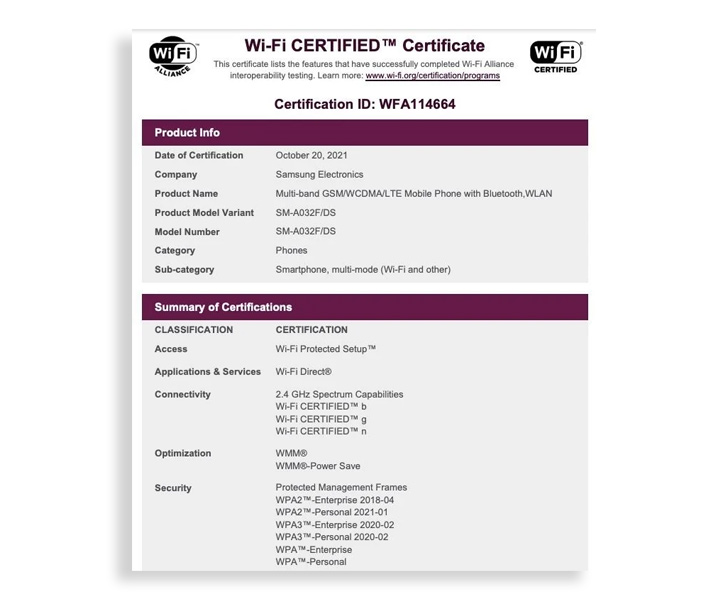 Samsung's new phone model 2021 is paired with at least 2GB of memory. Unless Samsung is planning to downgrade the RAM from last year's Galaxy A02, it could max out at 3GB. The battery backup is 5000 mAh. In typical fashion for an entry-level Samsung phone, the Galaxy A03 lacks quick charging. Android 11 Go, a trimmed version of the OS designed for low-end phones, runs on the Galaxy A03. That covers what we know so far.
But expect the A03 to borrow at least some specs from the Galaxy A03s. The phone might have four cameras onboard — including a 5MP lens on the front and a 13MP unit on the back. The screen would be a 720P IPS LCD.