Following their new bi-annual release calendar, Oppo started the global rollout of the Reno6 series in summer. The Reno6 is the second generation of the Reno series to launch in 2021. And it's now headed to Pakistan. Official Oppo sources have kicked off the teaser campaign for the upcoming release of Oppo Reno6 Pro and the standard Reno6.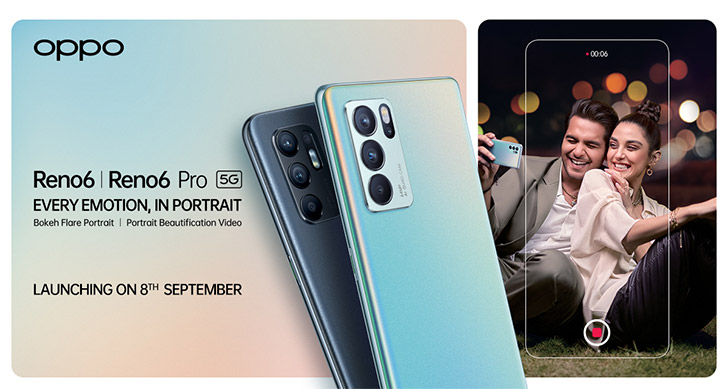 Per the announcements on Oppo Pakistan's social media, the Reno6 series is set to launch on September 8, 2021. Presumably, the event will be virtual, starting at 7 PM PKT. There's little in the way of a surprise except for the pricing details because the OPPO Reno6 duo already launched.
Let's review what these mid-range Oppo phones have to offer. The obvious highlight of the Reno6 would be its design. Jumping on the trend of flat edges that started with the iPhone 12, the Reno6 also features a rounded, flat-edge frame.

It's painted in the distinctive 'Reno Glow' finish, but Oppo has taken out the bold, radical lettering seen in the previous generations. You can pick from Aurora Glow and Stellar Black. Unsurprisingly, the Reno6 has a slim, featherweight footprint — 182g in weight and 7.59mm in thickness, to be specific.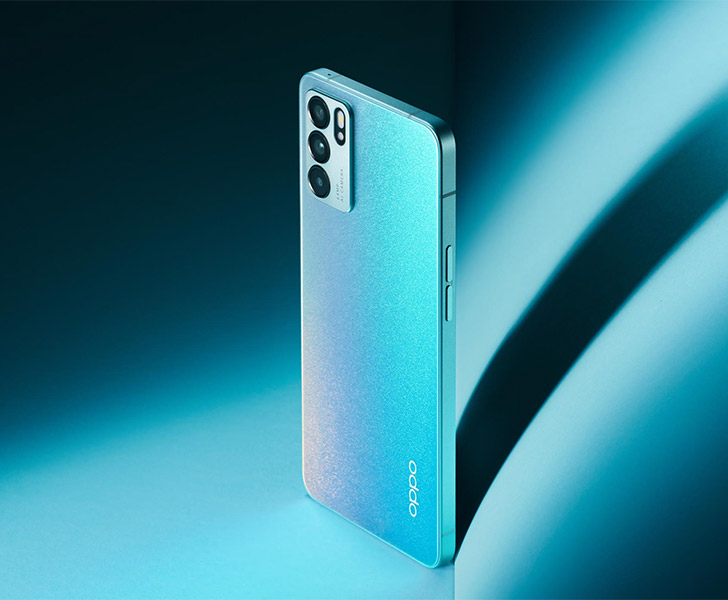 Performance is powered by the Dimensity 900 5G, 8GB+128GB of memory, graphite cooling, and a 4300 mAh battery. The internal specs remain more or less the same, save for the new chipset at a flagship Oppo mobile price tag. The Reno6 flash charges at 65W, delivering a 100% top-up in just under half an hour.
The Reno6 screen is a 6.4" AMOLED panel with a max refresh rate of 90Hz and 600 nits of peak brightness. It produces a 1080P resolution and houses a 32MP front camera. The rear camera features a 64MP wide lens, an 8MP ultra-wide lens, and a 2MP macro sensor.
The Pro edition still sports almost the same design as its predecessor. It's chamfered, and the edges are more pronounced, but the Reno6 Pro comes in the same two colorways as the Reno6. Its display is curved along the edges, but the specifications are roughly identical, once again.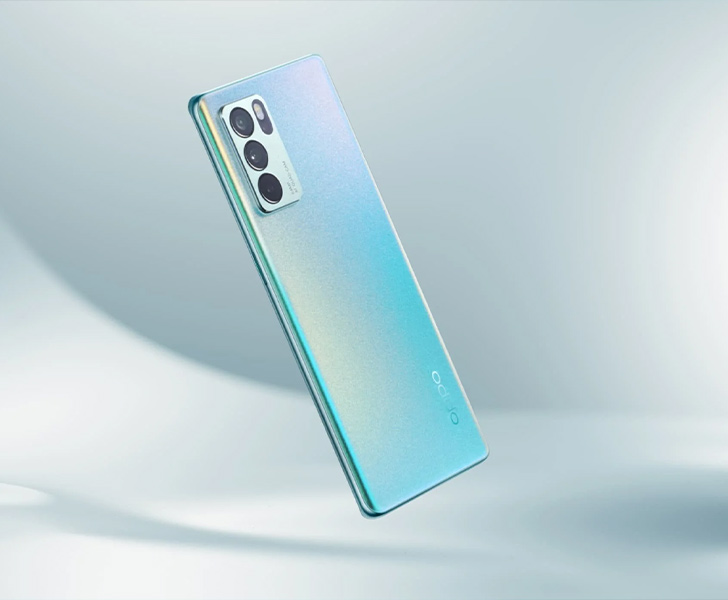 The camera system is also shared between the two, but the Reno6 Pro has an extra 2MP mono camera and a color temperature sensor for producing accurate colors.
Naturally, the Reno6 Pro is faster and more powerful thanks to the flagship Dimensity 1200 at its heart. It works with 12GB of memory (virtually extended by 7GB), a 4500 mAh battery, and 256GB storage. The 65W SuperVOOC standard also powers the Pro.