WhatMobile previously reported in an exclusive story that the Realme 8 series is soon landing in Pakistan. Sure enough, Realme Pakistan made the official announcements yesterday. The Realme 8 and Realme 8 Pro are slated for launch on April 28 at 7:00 PM. You can catch the event live on Realme's Facebook or YouTube pages.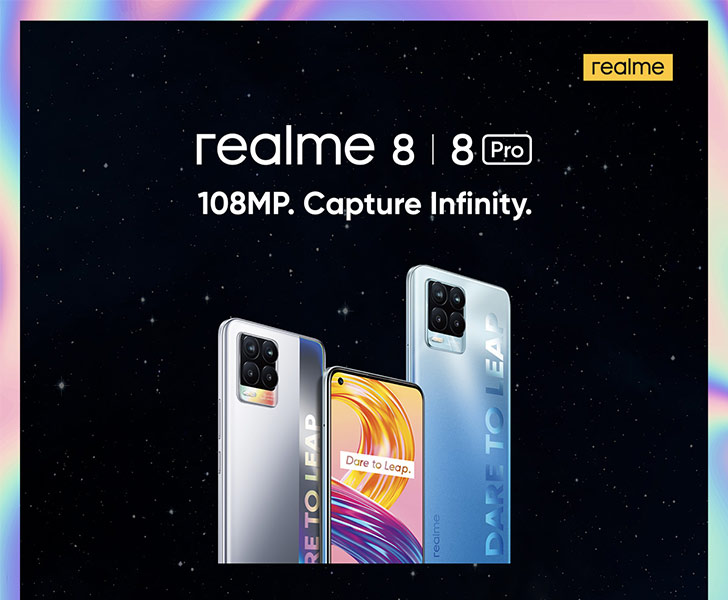 Realme 8 is the flashy one in this duo. It's accented with chrome strips that shimmer in iridescent, rainbow-like hues. You can pick from Cyber Silver and Cyber Black editions. Despite the flourishes, however, the shell is plastic this year too. From the looks of it, the unique glass sandwich builds of the Realme 6 series won't be coming back anytime soon. Both phones go on pre-order on April 28. Realme 8 hits stores on May 4, and the Pro edition on May 8.
Realme 8 Pro goes for a subtle, more muted look, but its shell has roughly identical dimensions and weight — not to mention the polycarbonate frame and back. That said, you will find the bold 'Dare To Leap' branding stamped across its shell too. Plus, Realme has lined these design elements with fluorescent material that makes them glow in the dark.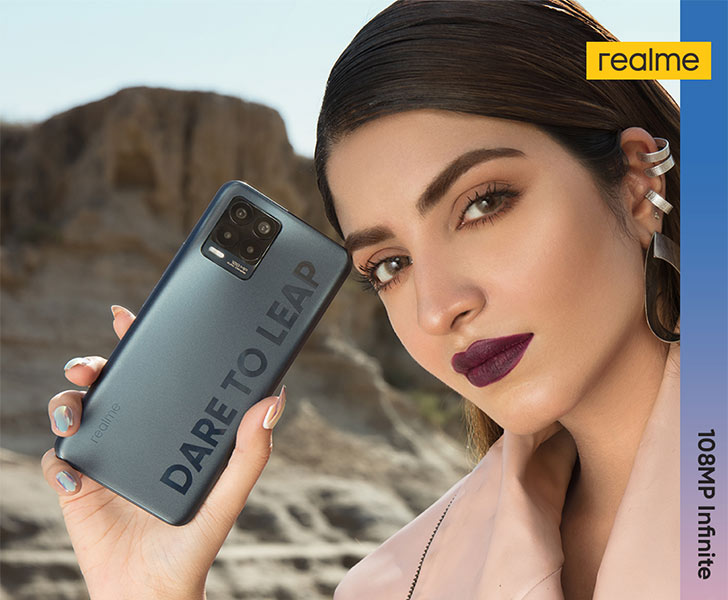 Because of their similar footprint, the two New Realme mobiles share identical 6.4" AMOLED screens with 1080P resolution and 1000 nits of peak brightness.
Realme held a special event to show off the camera prowess of the Realme 8 Pro and its 108MP camera. Photography is famously not a strong suit of their mid-range phones. Can an ultra high-res sensor and improved software be Realme's ticket to competitive photography?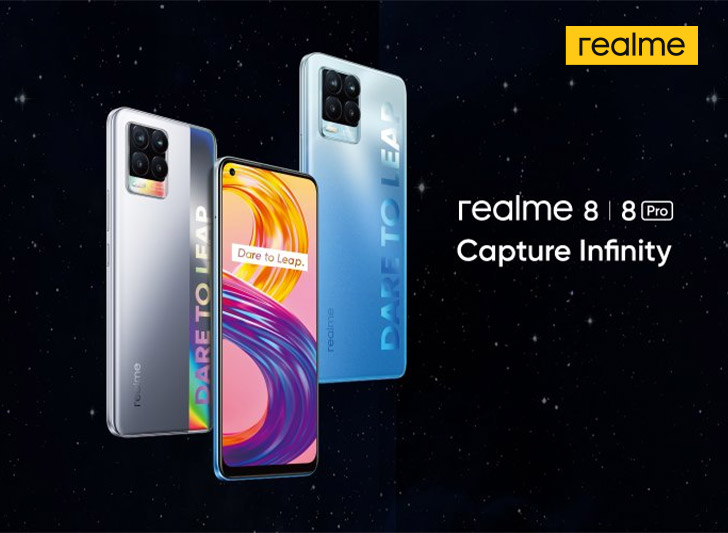 You also get an 8MP ultra-wide camera and two low-res sensors. The image-processing lets you shoot in Starry Timelapse, Tilt-shift, Super Night, and several portrait modes. The standard Realme 8 swaps out the 108MP lens for a 64MP camera.
Realme 8 has the Helio G95 at its heart, while the Pro edition runs on the Snapdragon 720. The standard edition has a bigger 5000 mAh battery compared to the 4500 mAh cell inside the Realme 8 Pro, but its fast charging is capped at 30W. The Pro uses a faster 50W standard.