The ever-prolific Oppo is releasing sequels to this year's mid-range models in quick succession — first the Oppo A53 2020 and now the Oppo F17 and F17 Pro series. While Oppo's signature is photography-focused phones, the upcoming F17 duo is being marketed as 'the Sleekest Phone of 2020'. The two models are launching in India soon, and we expect the Pakistani market to follow.

The design-first Oppo F17 Pro has already been featured in an official trailer, showcasing a six editions palette for the two phones — from shiny aqua to a more muted, matte purple, and everything in between. Oppo caps it off with an ultra-thin, featherweight form factor.
The frame of the upcoming pro variant is chamfered around the edges, for a smoother, more ergonomic grip; 7.48mm thick weighs an astonishingly light 164g.

The 'Pro' F17 doesn't reinvent the wheel, but that's not to say the Oppo design isn't quirky or head-turning. The camera island juts out from a corner, its rounded profile has a matrix of four lenses bound inside. Light streaks ray out from under the housing, contrasting against the deeper blue or charcoal shades at an affordable oppo mobile price. The standard edition has jet-black cameras across the board, unlike the uniform paint jobs the 'premium' variant does.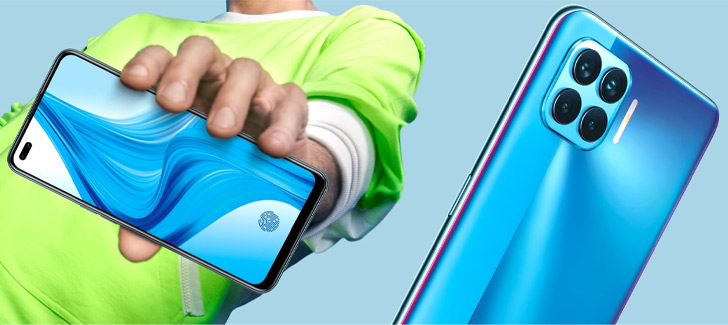 The promotional campaign hasn't teased any specifics, but the display (which should belong to the Oppo F17 Pro) has slim bezels all around and two front cameras arranged side-by-side inside capsule-style hole-punch. The teaser poster also hints at the pricing in fine print that reads, 'the sleekest smartphone within INR 25,000' — roughly Rs. 56,000.
The release schedule is anybody's guess, but speculation suggests the F17 Pro might launch first.