Samsung's Galaxy Z Flip made headlines back in February for its novel, albeit retro-inspired form factor. The phone has now been reviewed by the camera benchmarking platform, DxOMark, which awards the Galaxy Z Flip a mediocre score of 105 points. The source notes that the camera setup featured by the Z Flip is uncharacteristic of flagships in the fact that it doesn't fall into the 'high-end' Samsung price bracket. The optics system is pretty minimalistic: a dual camera on the back and a single camera on the front.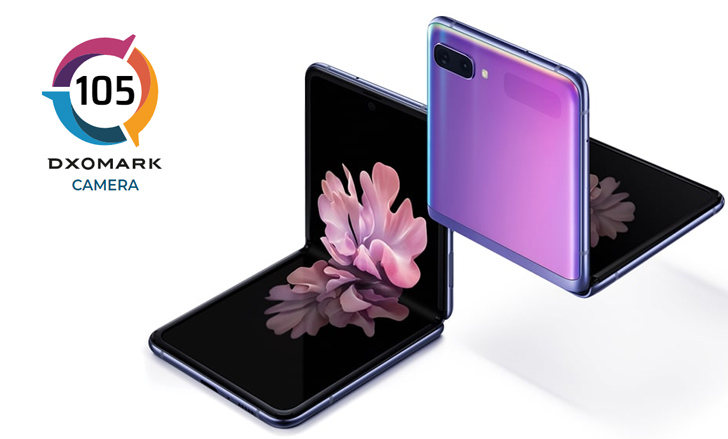 Each of the two rear lenses on Samsung Galaxy Z flip has a 12MP sensor behind – by comparison, the Galaxy S20 Ultra which immediately followed it debuted with a much more powerful 108MP sensor. At any rate, the main camera comes with PDAF and OIS and has an f/1.8 aperture. The secondary shooter is a 12mm-equivalent f/2.2 sensor.
But the specs don't tell the entire story since the Z flips's unique form factor allows for some innovative functionality. For instance, when folded halfway and rested on a flat surface, the flip phone essentially has a 'built-in' tripod, which can be used for taking long exposures and time-lapse shots. The 'Night Hyperlapse' does precisely that in low-light conditions.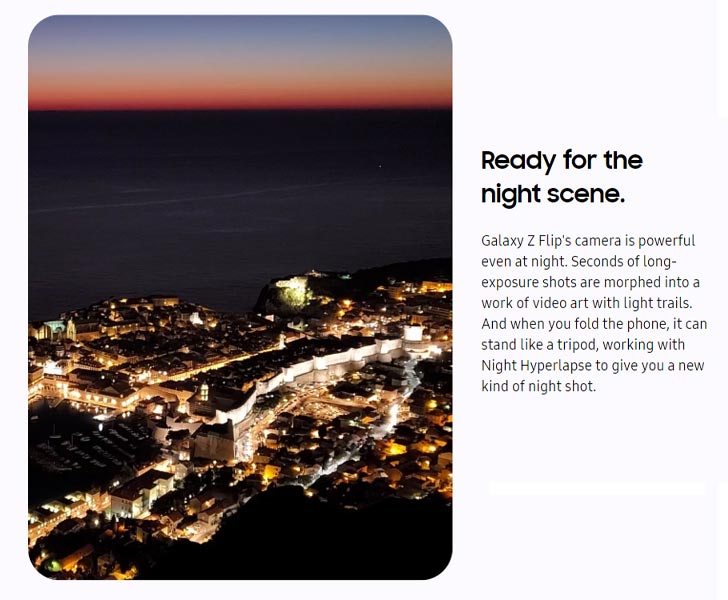 DxOMark ranks the Galaxy Z Flip in their top 30 smartphones, putting it one place behind the iPhone XS Max. The publication remarks that test shots are correctly exposed and often accurate white balance. In high-contrast scenes, the tonal values are compressed well, with an acceptable dynamic range. The color reproduction is sound, save for the outdoor scenes which appear desaturated.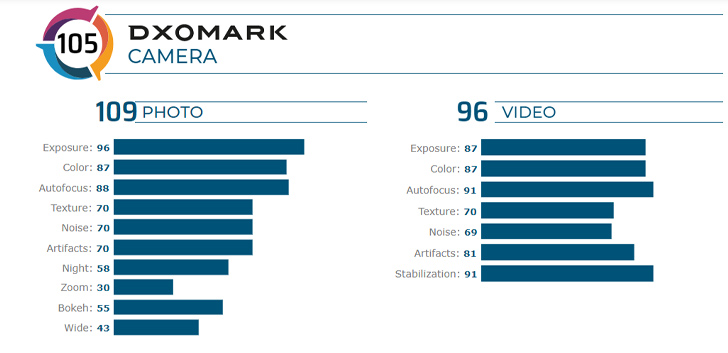 In low-light scenes, Samsung Z flip camera introduces some noise, but it isn't intrusive since most details are preserved. The zoom factor is unremarkable since there's no telephoto module. Based on the tests, the photography score maxes out at 109.
Despite Samsung prices the Z flip so high, for videography, it only manages 96 points. The ensemble can shoot in 4K though, and the stabilization is consistent and robust.
The Samsung Galaxy Z Flip is available for pre-booking in Pakistan starting at Rs. 249,999. The online store announces that it's a limited price offer and the phone will retail for Rs. 259,999 once it ends.