Samsung has pretty much confirmed the finalized design of the upcoming Samsung Galaxy Note 20 Ultra — although not on purpose. Earlier today, the Ukraine offshoot of Samsung published press renders of the Galaxy Note 20 Ultra seen in a fascinating Mystic Bronze edition. The page has since been taken down, but not before it was extensively leaked on Twitter.
The images went live on Samsung Galaxy Note 8's listing and were spotted and posted on Twitter by @MaxWinebach. Let's start with the fact that the press images bear a striking resemblance with the Note 20 Ultra leaks we've seen so far.
That being said, the flagship hadn't been leaked wearing this particular paint job. Readers who have been following the Galaxy Watch 3 story might recognize the 'Mystic Bronze' as the wearable was leaked in this shade as well.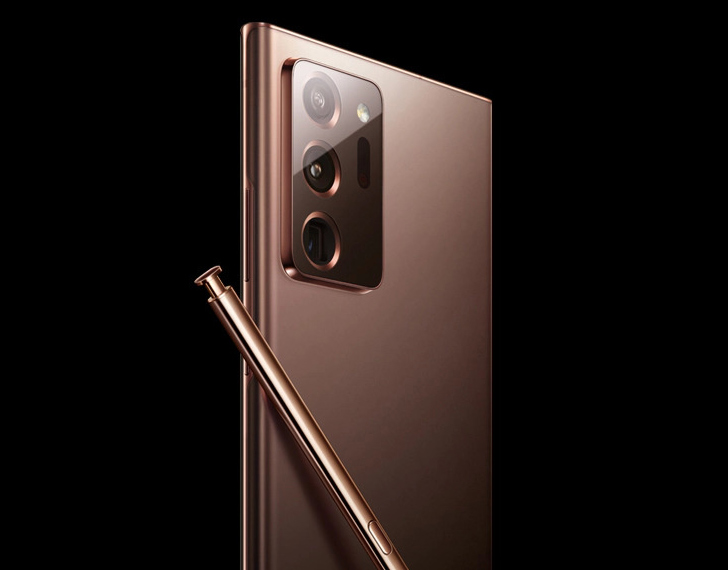 Coming back to the Galaxy Note 20, its elaborate, oversized camera is painted bronze too, except in a darker shade. The build feels boxier and you can make out what appears to be a periscope module (which has been rumored to offer up to 50x zoom). While the S20 Ultra's chunky camera housing is a guide to the camera elements you see in these renders, all three lenses in the Note 20 live inside round borders, flanked by the fourth laser focus module, leading to a design language that's more balanced, geometric, and aesthetic. The S-pen accompanying this edition presents a similarly sleek, metal bronze look.
Other speculated features include the Snapdragon 865 platform, QHD+ resolution operating at 120Hz, and as much as 16 gigs of memory. No Word on the Samsung price tag yet but the Note 20 series is set to go official on August 5, where the Galaxy Fold 2 will also be making an appearance.