Adjacent to the 2023 flagship line, Samsung also has the 5th-gen Galaxy-A catalog underway. Galaxy A14, A24, A34, and A54, are the awaited phones. Among the awaited phones, A34 was the only set bearing the silent treatment from Rumor-mill. And now, its first-ever renders have broken out with quite a commotion.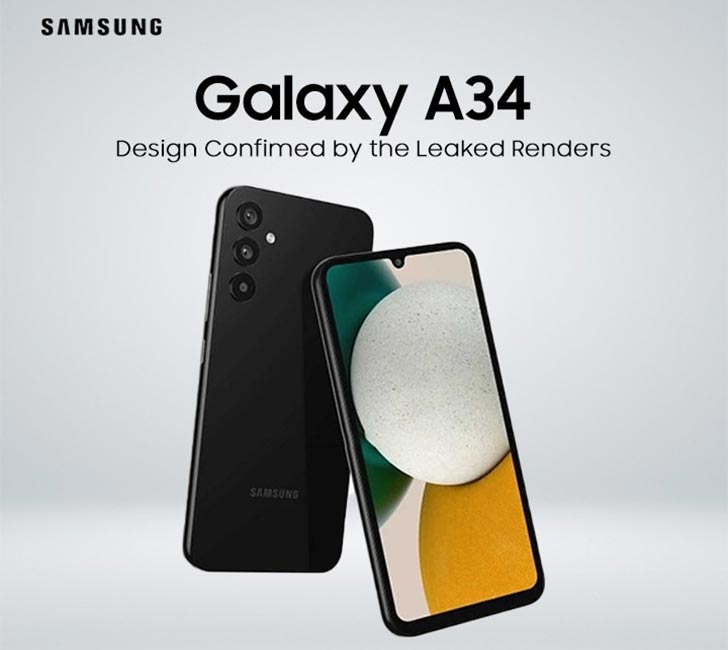 The iterative design language on the Samsung Galaxy A34 tells you three things. The first thing that's immediately noticeable is the missing 4th camera. The second on the list is Galaxy S22-inspired frame, and the third is its trimmed bottom chin.
Samsung plans to ditch the 4th auxiliary camera, which was complimentary with Galaxy A33. Tales on the web suggest the discarded depth sensor on A34. No depth-mapper means the primary camera will rely solely on software tricks to click portraits. That isn't surprising since most budget smartphones in the industry plan to adopt the same strategy in 2023.
With 4th sensor removed, the latest Samsung 5G mobile, A34's design language becomes more coherent with the flagship Galaxy S22 boasting an almost similar footprint, flat backplate, and chamfered edges. Dimension-wise, it allegedly measures 161.3 x 77.7 x 8.2mm.
A34's backplate fools the eye into thinking it's a Galaxy S22, but its face gives it away as a cheaper phone. It brings the same U-shape notch and thick bottom chin as its predecessors. In line with this year's strategy, Galaxy A34 will likely flex the same chipset as its sibling A54, the Exynos 1380 SoC.
The release and retail variants are still under wraps. If the chain follows its traditional 12-month criteria, we'll see an unveil in March 2023. The missing details like screen, camera, and battery stats are bound to surface as the launch draws near. The upcoming handset is expected to carry a similar retail as the Samsung Galaxy A33 Price in Pakistan.