Oppo Find X5 Pro belongs to the brand's upcoming line of flagship phones placed well above the OPPO Reno 7 series. It's slated for a debut sometime in March. And the rumor mill has been steadily leaking details relevant to the Find X5 series. We've even seen some certifications and unofficial product mockups. But the first real photos of the Find X5 Pro surfaced today, uncovering its design and specifications.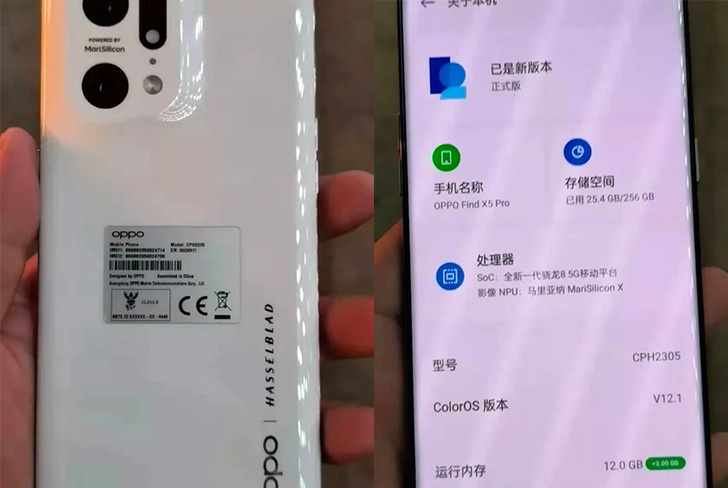 It's worth noting that the Oppo Find X5 Pro seen in these photographs doesn't line up with the previously leaked mockups. Those renders showed an oddly-shaped oblong housing and a grainy textured back. But the live shots captured a Find X5 Pro with more or less the same design as last year's Find X3 Pro.
We're looking at an identical ceramic white finish (albeit it appears more glossy now) and a camera bump sculpted from the casing. The camera housing melts seamlessly into the backplate. And contains a matrix of three lenses and two LED flash modules.

Last year's Find X3 Pro had a very minimalist, clean design. But the Find X5 Pro doesn't hold back on the branding. We can spot three different logos stamped on the phone's casing — Oppo, Hasselblad, and Powered by MariSilicon.
Hasselblad has been co-engineering OnePlus cameras for two years now. And now that Oppo and OnePlus have merged, that partnership has extended to the new Oppo Find mobile phones.
The phone's specs are pulled up on the screen in the second photo. As specified, the Find X5 Pro rocks an LTPO 2.0 OLED display, peaking at 2K resolution and 120Hz refresh rate. The rear camera system features 50MP OIS wide, 50MP ultra-wide, and 13MP lenses.
Everything runs on Snapdragon 8 Gen 1, 12GB of memory, and ColorOS 12.1. The 5000 mAh battery inside the phone charges at 80W over the wire and 50W wirelessly. So the spec sheet almost lines up one-to-one with the OnePlus 10 Pro specs.