Apple confirms the upcoming iPhone 11 launch on 10th of September as it finally sends invitations for its annual event. Though nothing specific is mentioned regarding the new iPhones, everybody knows we have a new iPhone every year in autumn.

The event will be held at the Steve Jobs Theater in Apple Park, the company's headquarters in Cupertino, California. Apple hardly keeps its launches focused on just a single type of product so, among other devices like smartwatches & iPads, Apple is also expected to announce the iPhone 11 series.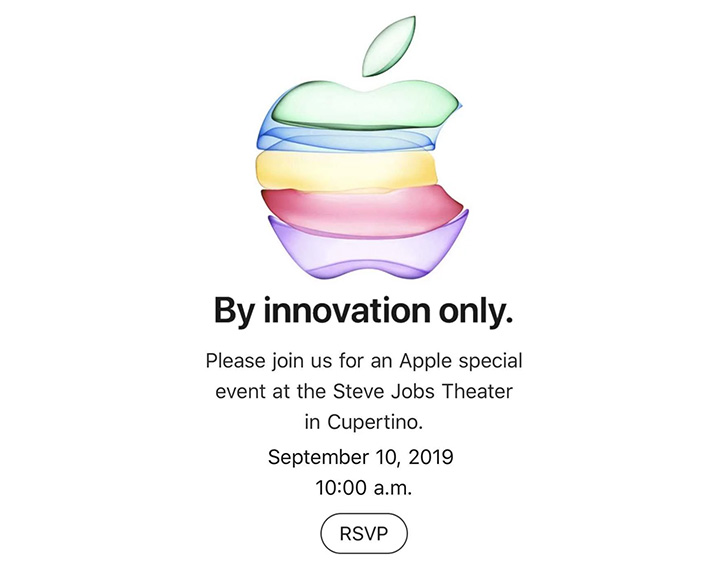 According to the earlier leaks & rumors, the new iPhone model names are the iPhone 11, iPhone 11 Pro and iPhone 11 Pro Max. According to preliminary information, the most advanced Pro models will have triple rear cameras and more processing power due to the new more powerful A13 chipset.

As per the latest information, the Pro models are also said to come with reverse wireless charging so that you can charge your AirPods. Apart from that, the successor to the iPhone XR is also expected to arrive in two new & fresh colors, purple and green as also indicated on the launch event's colorful logo.
Apple will also announce its new Apple Watch at the same time. Rumors have it that Apple Watch is pretty much same this year with few tweaks here and there as the Series 4 now already have a new design and larger screens. This time, the new watches are expected to focus solely on the already released watchOS 6 and maybe some new body cases.
Other possibilities are the arrival of new iPads, as the latest models were released almost a year ago, or an Apple TV 4K update, which was launched two years ago and could now have the chipset updated. As Apple's official announcement is less than two weeks away, further leaks are obvious in the coming days, so stay tuned as we bring you more.