The mobile gaming industry has come on in leaps and bounds with its growing trend in recent years. It's ushered more demand for smartphones users to level up their game. The gaming craze has never become higher than before. With games like Free Fire and Pubg present, there has never been a better time to be a gamer.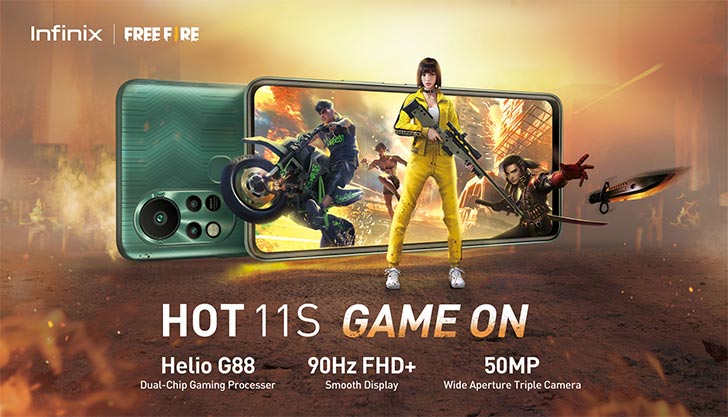 On the other hand, advancements in these games require an advancement on the platforms they are being played on. These games require the latest technology which is usually hard to find and may deprive many gaming enthusiasts of a good gaming experience. But not anymore, with the latest Infinix Hot 11S, for just Rs. 25,999, you can get an amazing gaming experience with features such as 90 Hz refresh rate, G88 MediaTek Helio powerful processor, Dar-link game booster, and much more.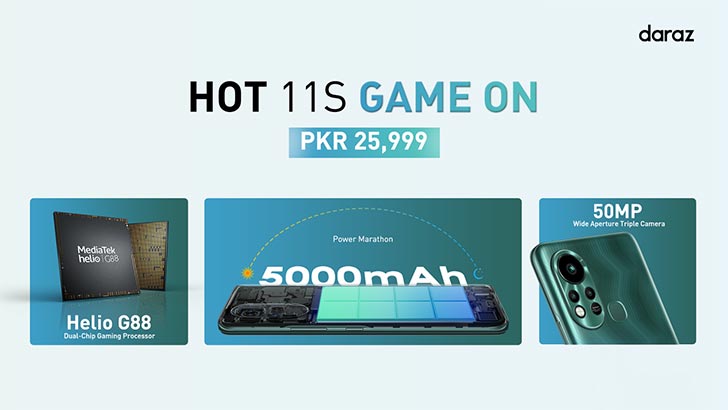 Now, let's find out the aspects that make Infinix HOT 11S a star of the show.
Chipset
This is where the phone proves its worth. It comes with a fierce MediaTek Helio G88 (12nm) chipset accompanied by an Android 11, XOS 7.6 Os. With a smooth 90 HZ refresh rate, Infinix Hot 11S provides an optimal gaming experience.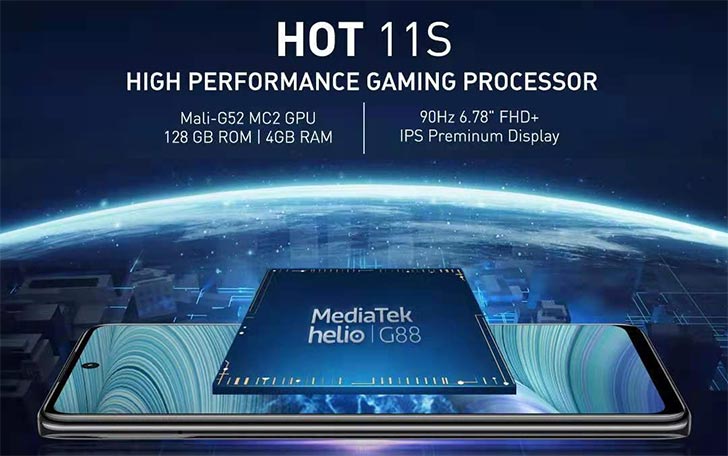 No delays, smooth gameplay, and a fast processor to which gamers can't say no to. The HOT 11S also comes with a solution to a problem that most mobile gamers have which is overheating.
The new feature Dar-link prevents the phone from overheating by slowing down other processes in your phone for the optimal gaming experience. It also comes with a 180 HZ touch sampling rate which improves the recognition of your fingers on the display, detecting the accurate position while gaming.

Rear Camera:
The Infinix new model phone Hot 11S surprisingly has a triple camera setup with a whopping 50 MP main camera. The camera setup comes with complete autofocus. It also comes with a night mode and for the first time a 240 FPS slo-mo video and eye-tracking autofocus. It is also accompanied by a 2K resolution video, allowing you to get the best results.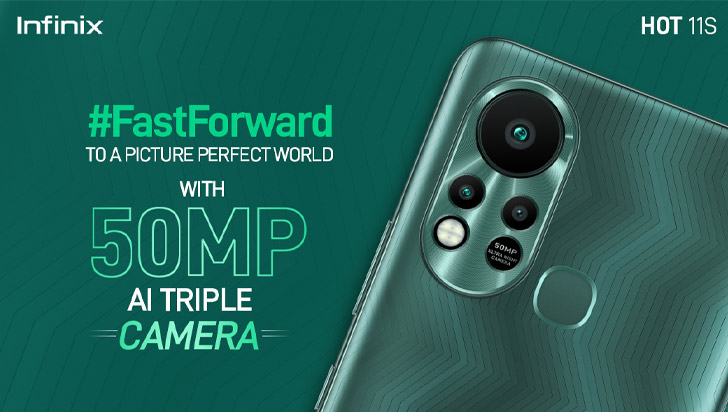 Moreover, the front camera of 8 MP and the back camera of 50 MP is equipped with Electronic Image Stabilization (EIS). The Infinix Hot 10S' successor camera comes with features such as night mode, beauty mode, portrait, and much more. Considering the exciting features, the HOT 11S has an impressive arsenal of cameras. With a 50 MP in the front, it exceeds all expectations.
Display and Design
The Hot 11S comes with a 6.78 inches IPS LCD screen with a smooth 90 Hz refresh rate. It comes with an 83.1% screen-to-body ratio and a resolution of 720 x 1640 pixels. So if you are looking for a prime gaming experience, this is the phone for you. The phone comes with not the most elegant design but makes due. The 11S has dimensions of 6.75 x 3.05 x 0.36 inches. It has a glass front with a plastic frame and back. Not the classiest design but would be beneficial if you rage and throw your phone.
The Infinix Hot 10S has outdone itself with its high-end features and amazing performance. The phone provides a decent camera and an amazing display for the HD view and a better gaming experience. The phone has made a huge impact on the users and provides the best gaming experience.