Huawei's sub-brand Honor is apparently working on the next iteration of its popular Honor 9X duo, dubbed Honor 9X Lite. A leaked promo poster showcases the design of the upcoming addition, alongside camera details that suggest a photography-minded build.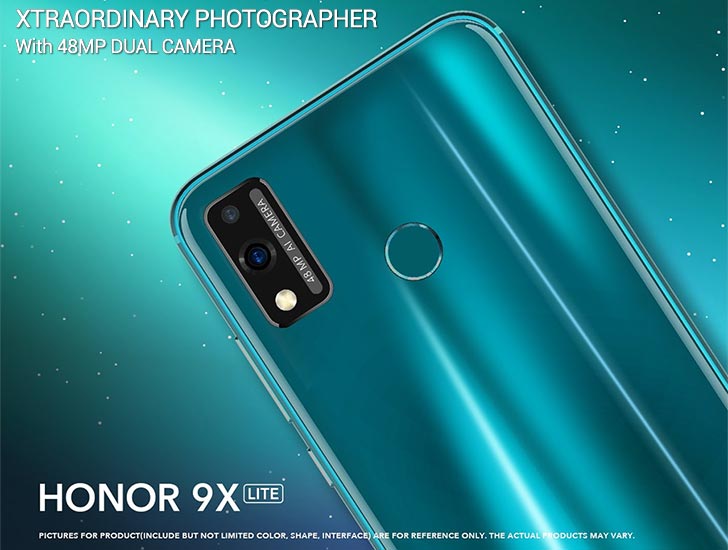 Honor 9X lite has a reflective rear shell with a fingerprint scanner, and a dual-camera mounted on it. The vertically-stacked twin camera setup is housed in a rectangle-shaped bump in addition to an LED flash. The markings on the housing read '48 MP AI Camera,' and the tagline states, 'XTRAORDINARY PHOTOGRAPHER' -- again hinting at superior camera performance.
The secondary lens is likely a depth sensor, but additional details are thin on the ground right now. The 9X Lite in the promo poster shows off a glossy green hue, which confirms at least one color edition.


The model has also been spotted on Google Play Certification, which points to three different variants with different Huawei Prices: JSN-L21, JSN-L22, JSN-L23. Since it has shown up Google's official listings, Honor may have found a workaround for the trade ban. In simpler terms, when 9X Lite is introduced outside China, it will ship with preloaded Google Mobile Services.
The duo from last year ran on a Kirin 810 chipset, but speculation has it that a mid-range Kirin HiSilicon 710F processor will power the Honor 9X Lite. The launch schedule for the phone is a mystery as of now, but we should hear more about the specs as the phone gets signed off by more certifications.