In a latest Shandar offer, HMD Pakistan and Advance Telecom have now decided to drop the prices of its four popular devices, namely: Nokia 1 Plus, Nokia 2.1, Nokia 7 Plus, and Nokia 8110. Three of these phones are low-end entry-smartphones, however, the 7 Plus is a mid-range pick.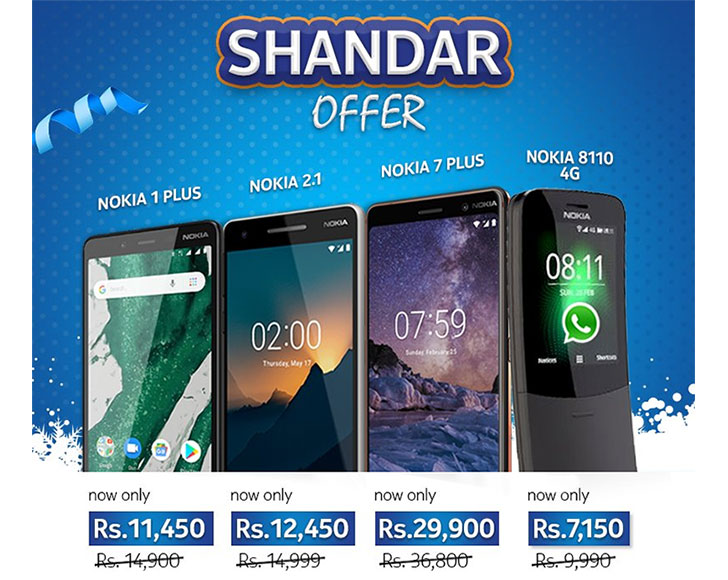 Note that Nokia 7 Plus was launched back in early 2018, as was the Nokia 8110 and Nokia 2.1, whereas the Nokia 1 Plus was released earlier this year.
We'll kick things off with Nokia 1 Plus. Featuring a 5.45-inch display and a near-stock Android Pie experience, this budget phone might not have made waves in the market with its performance, but it still offers a respectable spec sheet, especially in its relative price bracket. A MediaTek MT6793WW processor clocked at 1.5 GHz and 1 GB of RAM, power it. And with the price cut in place, the Nokia 1 Plus will retail at 11,450 Rs, instead of 14,900 PKR.
This entry-level phone's highlight would be its beautiful design. And while it may not have the spec sheet to rival flagship models (nor should it have to), the attractive colors and the cosmetics still manage to impress. Unveiled back in May 2018, this model sports a 5.5-inch IPS LCD at 267 ppi and an 8MP rear camera. It's rocking a Snapdragon 425 chipset and 1 GB of RAM. But the price has now dropped from 14,999 PKR to 12,450 Rs.
Nokia 8110
Nokia betted on nostalgia with its 8110, and for the most part, it panned out. The company reimagined the 90's era slide phones and fused it with 21st century's technology. It sports 4G (which, perhaps is its focal point) and is powered by a Qualcomm Snapdragon 205 SoC running the Kai OS. Except for the internals, Nokia aimed to keep things old-school, so the phone doesn't feature a front-facing selfie camera, and the rear-camera maxes out at only 2 MP. The 8110, which was originally priced 9,990 PKR, will now be available for 7,150 Rs.
Last but not least, we're looking at Nokia 7 Plus, which is now retailing for 29,900 Rs, in lieu of 36,800 PKR. The phone isn't a flagship killer, but this mid-ranger is a good alternative if you're looking for the stock Android experience. Powered by an Android One based Oreo 8.0, the UI of this phone is as clean and bloat-free as it gets. You also get the option to upgrade it to Android Pie (9.0), should you choose to do so. It runs on an octa-core Kyro 260 processor with the maximum clock rate of 2.2 GHz and 4 gigs of RAM.
It comes with 64 GB of native storage which is expandable up to 256 GB. The optics feature a dual-camera setup from Carl Zeiss with a pair of 12 MP sensors and a 16 MP front-facing shooter. The fingerprint reader is rear-mounted and it supports up to 18W fast charging.