Galaxy A80 is the first Samsung smartphone to hit the market with a rotating camera setup. The same camera works as a rear camera and makes a rotating motion to also be used as a front selfie shooter. The video below demonstrates how the mechanism actually works.
This is the mechanical structure of the Galaxy A80 camera, which is very complicated but takes up space.
Video from a Chinese Samsung engineer pic.twitter.com/YTdLfyqIFI

— Ice universe (@UniverseIce) July 3, 2019
Samsung Galaxy A80's whole Camera mechanism is supported by just one motor
The video is short but enlightening as both the movements are supported by just one motor. The structure is designed in such a way that when the slider gets pulled upwards, it also causes the cameras to rotate at the same time.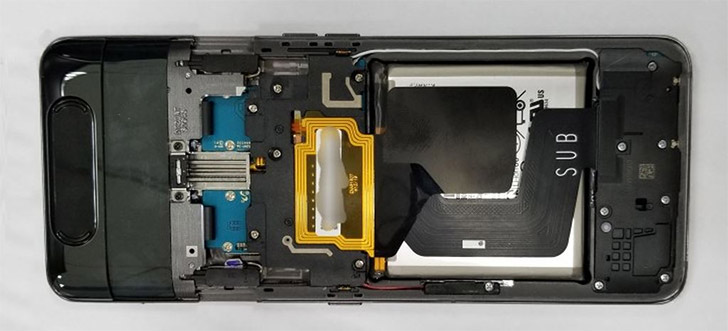 The short video clip was shared by the well-known leakster Ice Universe and he mentions the source to be some Samsung engineer from China. Eventually, apart from the rotating movement, it offers somewhat of a similar construction level if compared to the pop-up camera mechanism. The same source also shared another image that shows the inside of Samsung A80
The Galaxy A80 advantages over the pop-up mechanism
Although a notched or a punch-hole screen is a safer bet for the manufacturers, every other smartphone brand still went ahead to test their own version of a motorized mechanism. The main advantage of Galaxy A80's rotating camera over a pop-up mechanism is that one can use the same high-quality main camera to snap some breathtaking selfies.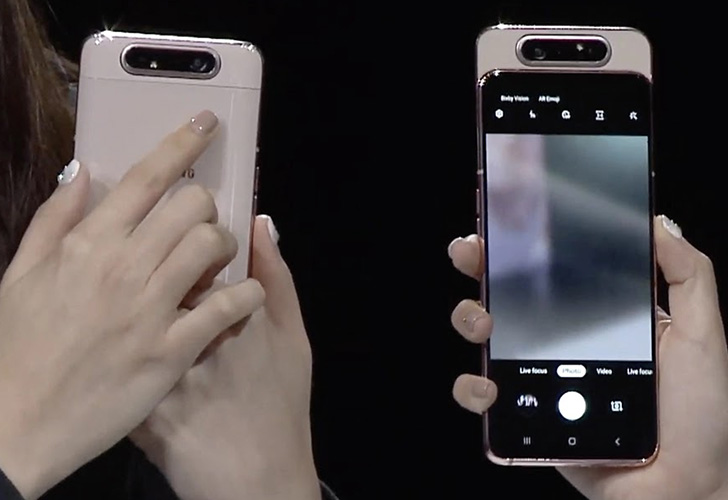 The Galaxy A80 smartphone is expected to arrive in Pakistan anytime this month, probably in the second half of July but with a hefty price tag. The handset is expected to cost way over 100,000 Pakistan rupees due to the dollar vs rupee devaluation. The smartphone does come with some reputable set of specifications but it's not a top of the line model so the price tag will certainly not please those who are interested in buying it.
However, those who like the new rotating camera solution and are willing to pay a hefty amount to possess a quality Samsung smartphone, here's how your rotating camera works.