After years of rumors and leaks, Motorola, the pioneer of some iconic clamshell mobile phones has finally pulled off the cover from Razr 2019, the coolest smartphone successor to the clamshell smartphone era. Reminiscent of its classic predecessor The Motorola Razr, its a flip-flop device with an ultra-modern 6-inch pOLED type flex display, called the Flex View
Pictured below is the new Moto Razr 2019, you're looking at a monolithic OLED panel with a hinge-mechanism in the center that allows the phone to vertically fold in on itself. Beneath the panel, is a very heavy protruding chin with a button embedded in it. Not unlike the chin, there's also a very noticeable wedge-shaped notch which houses a modest 5-megapixel lens.
But reminiscent of days gone by, the Razr sports a second display panel on the back of the device that can be used when the Razr is folded. Speaking of the back, the shell appears to feature an old-school dot pattern. Further down below, there's a USB Type-C jack but from the looks of it Motorola lopped off headphone jack support.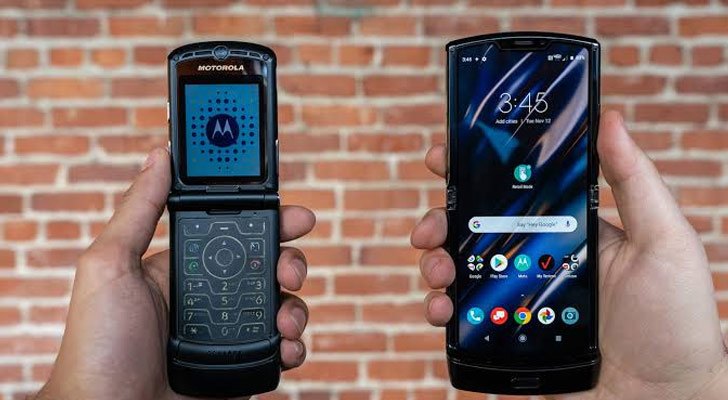 Moto Razr comes with a quick charge (15W) and USB-Cs connector, but the battery is only 2510 mAh, which is quite modest compared to currently available high-end phone batteries, and we would be very curious how long this phone can last without charging.
Flip open this blast from the past, and you're looking at a perfectly flat pOLED 6.2-inch display (which Motorola is calling "Cinemavision") that produces a resolution of 876X2142 pixels with a 21:9 screen ratio. The secondary exterior display or as Motorola likes to call it, the Quick View screen measures 2.7 inches and sports an OLED display that maxes out at 600X800 pixels. The Quick View screen allows you to access some basic functionality without unfolding your Razr.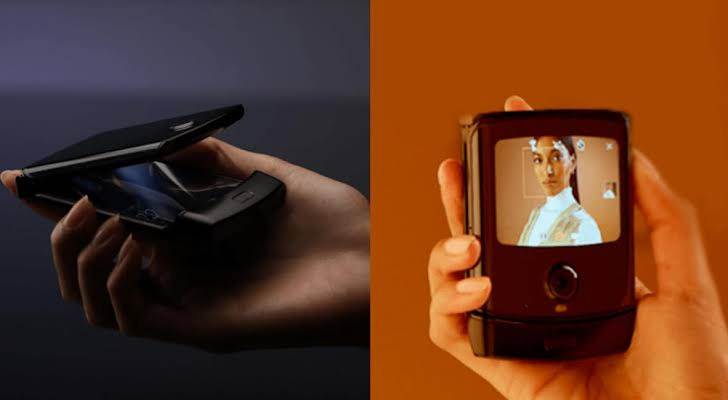 As for the internals, the Razr rocks a Snapdragon 710 processor which can be a letdown considering how most Android flagships this year featured a Snapdragon 855 chip. In any case, the chipset is rounded off by 6 GB of RAM and 128 GB of internal storage.

Since Huawei and Samsung mobile have already announced their own flip screen devices, we know that this technology is not cheap. And Motorola has not denied it either as the new Razr is priced at a whopping $ 1,499, which is almost 234,000 Pak rupees excluding the domestic taxes. Another reason that Pakistani enthusiasts should not get much excited is that the phone will first be available in the US for the time being since January and there's no timeline yet if when would it get available in other countries.