Despite the fact that so much hype was created about the unpacking of Samsung S10 series, interestingly, Samsung commenced its unpacking event with the Samsung Galaxy Fold. A smartphone having both the qualities, a mobile phone when folded and a tablet when unfolded. The smartphone will be available within two months and that would be a real working phone, not a prototype.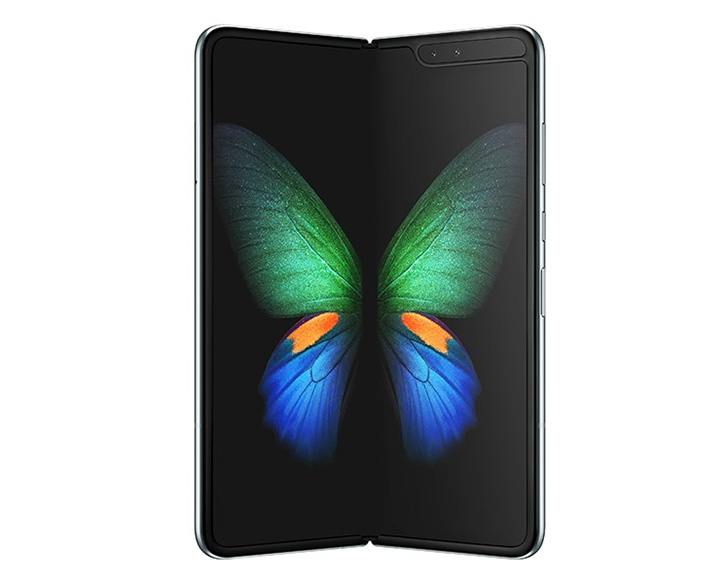 The mobile phone has a covered hinge system and interlock gears ensure its smooth folding and unfolding. The gears and hinge system also improve the durability of the Samsung Galaxy Fold as well. Samsung claims that the Galaxy Fold can easily take "hundreds of thousands of openings & closing". The device's fingerprint reader is placed on the right side.
In the unfolded mode it provides you an experience of a 7.3-inch display equipped with a resolution of 1536 x 2152 pixels. The unfolded mode can enable the user to enjoy three apps at the same time. While folded, the device yields a 4.6-inch display with 840 x 1960 pixels.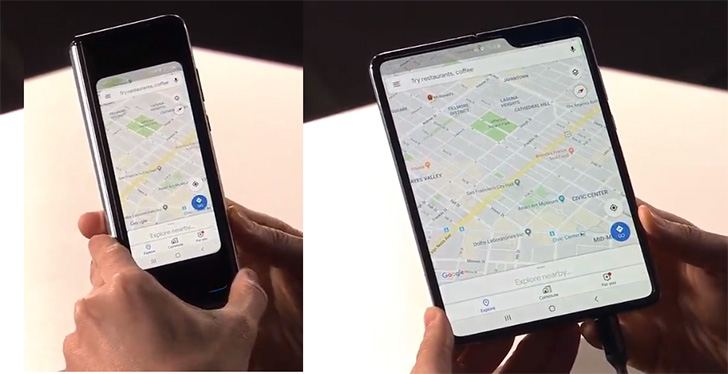 App continuity is another feature that adjusts the app as the screens are switched. Once you have an app opened and unfold your smartphone, the app's interface will expand on the large screen and will continue to work in the same way. But that's not all, Samsung is keen to improve it further in collaboration with Google and Android Developers.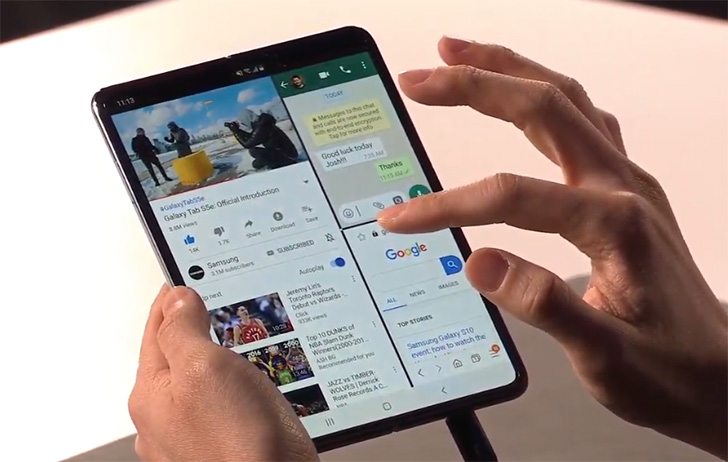 The Galaxy Fold has a total of six cameras to capture the images in any possible position. There is a triple camera setup on the back, two cameras on the front when unfolded and one front selfie shooter in the folding position.
Main Triple camera setup includes a 12 MP primary sensor with optical image stabilizer, autofocus, and variable aperture. It is supported by another 12MP dual optical zoom camera with f / 2.4 aperture and finally a 16-megapixel ultra-wide angle lens. in tablet mode, a 10 MP + 8 MP dual front selfie setup is available. Another single 10-megapixel selfie shooter is provided when folded.
In order to bear the load and work smoothly, the Samsung Galaxy Fold has 7-nanometer chipset along with SD 855. It is also powered with 12 GB of RAM and 512 GB of internal storage. To make the booting faster a 3.0 UFS storage is also provided, stating a 2x increase in memory bandwidth. Two batteries are fixed inside each fold in order to fulfill the power requirement for this gigantic folding smartphone. The combined capacity of double the powerhouse is 4380 mAh.
---
CLICK HERE TO SEE
Samsung Galaxy Fold's Complete Specs and Expected Price
---
Though Samsung Galaxy Fold is not officially coming to Pakistan (confirmed). The handset will go on sale in the US on the 26th of April and then, will make its way to Europe on May 3rd. There will also be a 5G variant but details about that are not yet out. The smartphone is going to cost about 1980 us dollars which translates to about 276,000 Pakistani rupees without any applicable taxes.
---
CLICK HERE TO SEE
Samsung Galaxy Folds's Complete Specs and Expected Price
---