To rival Samsung's seemingly endless selection of Galaxy S20 editions, Huawei will also be launching its upcoming Huawei P40 flagship with up to five color options. The report is based on a recently spotted Huawei P40 promo poster that showcases the rear shells of the P40 and P40 Pro duo.

Published by the blogger YashRaj, the image in question reveals that the Huawei P40 Pro will come in teal, orange, white, purple, and white hues. Unlike the modern glossy design, previous renders showed, however, this leak portrays a more retro matte-like finish.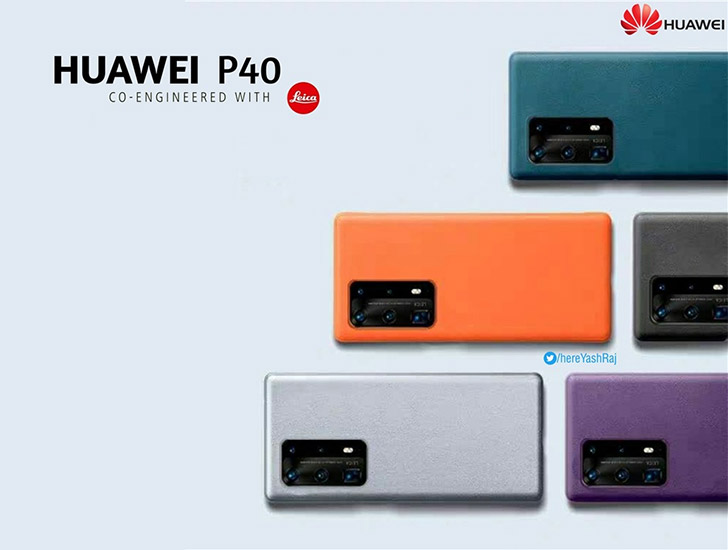 At any rate, you're looking at an identical five-lens array, laid out in a domino-shaped bump, we're pretty familiar with now. You can make out an oversized periscope module resting in the corner (more on that in a few), and four additional lenses that sit atop it. Also part of the setup is an LED flash, adjacent to the telephoto camera.
You can tell from the design language alone that Huawei is going for a camera-centric build. Nothing yet on the Huawei Price but we have the exact specification now, thanks to a leak that surfaced earlier today. As per the tweet which details the hardware, the penta-camera package features a Sony-manufactured 52MP IMX700 main camera, with an individual pixel-size of 1.22 μm. Next to it, is a 40MP IMX650 wide-angle Cine shooter -- both lenses are augmented with RYYB filters for better exposure.
Let's play some numbers
IMX700 52mp (Hexadeca Bayer) RYYB 1/1.28"
IMX650 40mp ultra wide Cine RGGB 1/1.5"
3x optical tele zoom
10x optical dual prism periscope zoom with 2P1G lenses
Time of flight sensor
LED light
Color temperature sensor
microphone#HuaweiP40Pro pic.twitter.com/hUTDjob5Qs

— Teme (特米) (@RODENT950) March 6, 2020
To bin the pixels together, the Huawei P40 Pro uses something called 'Hexadeca Bayer' technology. The aforementioned periscope has a dual-prism mechanism behind it, and it allows for up to 10x lossless optical zoom (the same as its primary competitor Samsung S20 Ultra.)
Further, a telephoto sensor offering up to 3x optical zoom and a ToF for better depth-assistance are also part of the ensemble. The source points to a color temperature sensor and a microphone as part of the build as well. A pill-style dual camera is mounted inside the display for taking selfies.
The P40 series is scheduled to launch on March 26, but the Chinese manufacturer has yet to provide any hint on the expected Huawei Prices or officially tease any detail.