We're used to seeing 'watered-down' variants for a lower price tag – oft accompanied by a 'Lite' moniker. But something that's not typical of this industry is OEMs downgrading already cheap entry-level smartphones and bringing them for an even more competitive price. With the launch of Infinix S5 Lite, the Chinese manufacturer seeks to dispel that notion. The budget-minded S5 is soon to debut in Pakistan and looks like it won't be all alone. The phone finally landed in Nigeria with its pocket-friendlier variant, the S5 Lite & the same is expected in Pakistan soon.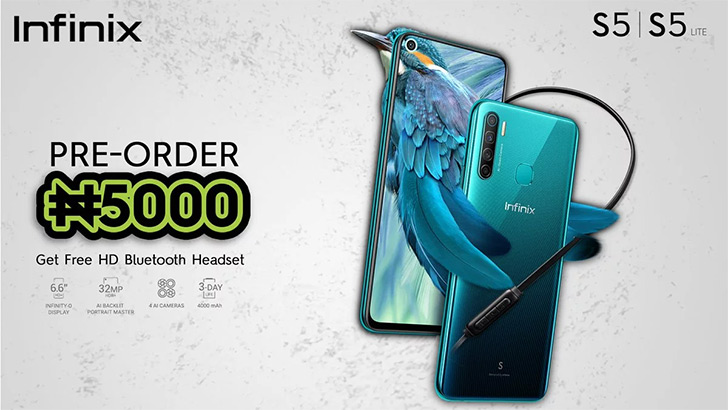 Barring a few obvious (and a few subtle) changes, Infinix S5 Lite borrows most of its design language from the base S5 variant. Earlier rumors claimed that the phone will feature a dual-camera setup but Infinix only lopped off the fourth camera, leaving the lite variant with a triple-camera setup.
As opposed to the quad-camera package sitting on the S5. The primary lens here maxes out at 16 megapixels, which is paired with a 2-megapixel shooter and a QVGA sensor. The front-facing selfie cam has also been swapped for a modest 16-megapixel one.

On the front, you're looking at a 6.6-inch display that produces a screen resolution of 1600 X 720P and a screen-to-body ratio of 90.5% -- another feature, uncharacteristic of entry-level smartphones. The 16-megapixel front-facing snapper is housed inside a punch-hole design nestled at the top right corner of the display, giving it a clean overall look. Save for, of course, the rear-mounted fingerprint reader. The back panel itself is being offered in black, purple, green hues.
Under the hood, the phone runs on a MediaTek Helio P22 processor, rounded off by two different memory configurations: 4GB / 64 GB and 3 GB/ 32 GB. This hardware draws power from a decent 4,000 mAh battery, but one that lacks support for fast-charging. Both the lite variants come with affordable Infinix Price tags.
Out of the box, the S5 Lite is powered by an XOS 5-layered Android Pie. The 'Lite' S5 is retailing for 42,500 and 46,500 Nigerian nairas for both versions, which comes to roughly 18,000 PKR and 20,000 PKR, respectively. However, The Launch dates for the lite variant in Pakistan are not yet confirmed, it'll either launch with the base S5 model or might follow on later.