Would you believe if we told you that a smartphone company is giving FREE services for their customers exclusively?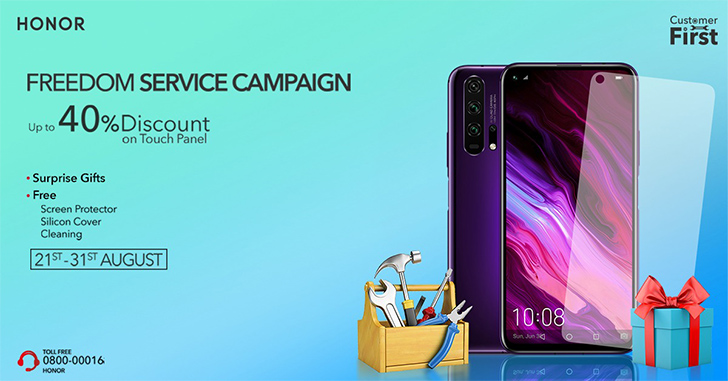 Honor continues providing after-sale services to its existing smartphone users which is a great deal for customers as they are facilitating them and making sure that they have the best experience for them. They have now come up with a better service and thrilling offer this summer for all the Honor fans and Honor Family where they can enjoy the amazing service with exciting discounts and freebies in this month of freedom.
Their Summer Free Service Campaigns includes everything that a customer could wish for. From free cleaning protectors/silicon cover to software refreshing along with gifts and laser engraving for their customers. They have covered it all. More than that, they are offering up to 40% discount on Honor smartphone touch panels repair to cater their Honor family. The offer is valid till 31st august so make sure to grab your freebies because who would want to miss out on free exciting gifts.
Free Surprise Gifts & Refreshments for Customers during the Service Campaign Period:
A. Up to 40% discount on Touch panel repair (Selected Models Details in below Table)
B. Free Cleaning, Screen Protector / Silicon cover
C. Surprise Gifts & Laser Engraving* for Customers
---
CLICK HERE TO SEE
Honor Phone Prices in Pakistan
---
Applicable Models:
11 Honor Models listed below with Touch Screen (Spare Part) discount: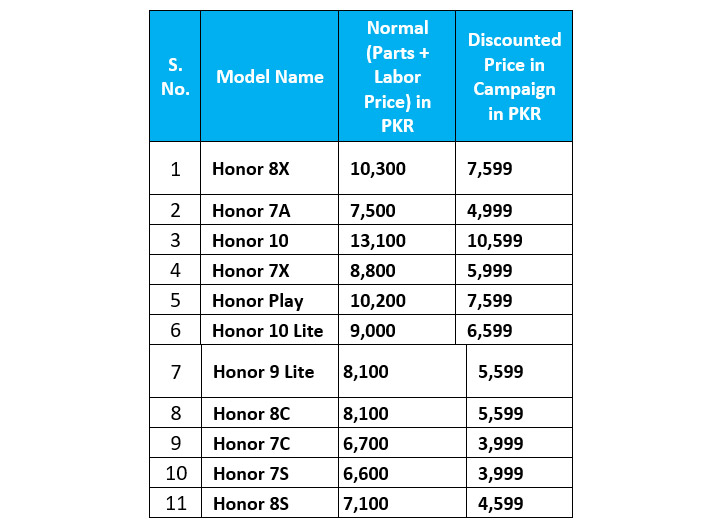 Honor Service Campaign Participating ASC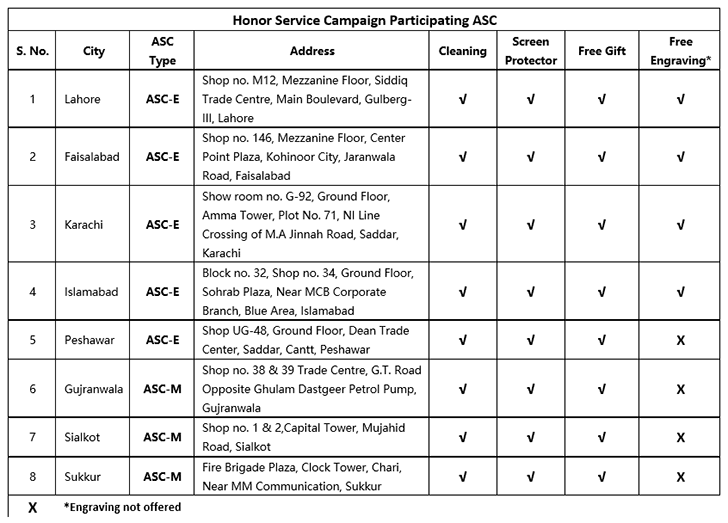 Terms & Conditions Apply:
Touch Panel Repairs Discount offer is a limited period in Phase II (21stAug - 31st Aug) & subject to available parts stock in participating Service Centers only
Parts discount offer is available for All models (Handsets only) officially launched in Pakistan by Honor
Laser engraving available in four Service Centers only in Lahore, Karachi, Islamabad & Faisalabad.
Customer need to agree that engraving will impact the phone's back cover permanently
Gifts are limited & will be given to participating customers during the campaign period on the first-come-first-serve basis until stock last.