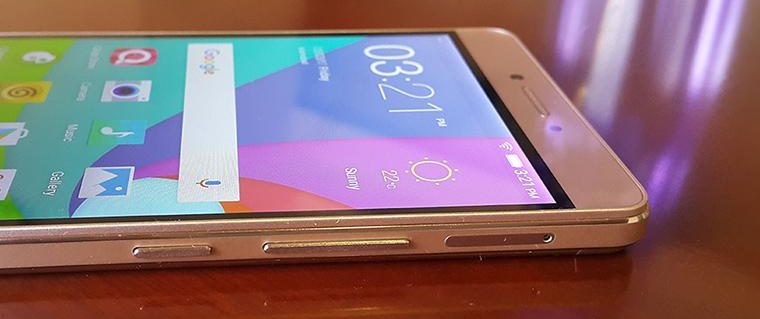 QMobile King Kong Max Review
Introduction:
Since day one, Q Mobile has focused on its Noir smartphone series and did their best to make that flagship more prominent in terms of design and specifications but now they have decided to add some more spices into the recipe. Introducing the latest smartphone from QMobile, no it does not belong to the Noir series and is rather named as "King Kong Max". No doubt the name of the phone sounds a bit weird yet the specs pack a massive punch so let's see what QMobile King Kong Max has to offer.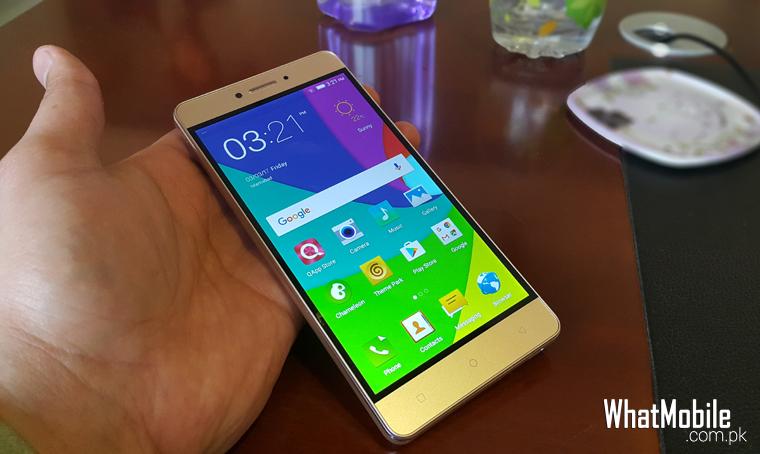 Specifications of QMobile King Kong Max:
Before we move towards the detailed review of King Kong max lets dive into the specs first.
QMobile King Kong Max
Display
5.3 inch capacitive Incell display
720 x 1280

Processor
1.5 GHz Octa-Core, Cortex A53, Mediatek MT6750
GPU
ARM Mali-T860 MP2
RAM
3GB
Storage
32 GB
MicroSD
Yes, up to 128GB
Camera
13 MP, Auto-focus, LED flash, Video ([email protected])
5 MP front camera
Software
Android 6.0 Marshmallow

Battery
4000 mAh, Non-Removable
Dimensions
150 x 73.4 x 8.3 mm
175g
Click Here for Full QMobile King Kong Max specs
Design King Kong Max:
For a phone with a price tag of 18500/- Pakistani rupees, King Kong Max has surely surprised us with its build quality. The front is dominated by a 5.3 inch diagonal screen which is flat from edges where at the bottom you will get the standard android capacitive keys that include multi-tasking, home and back keys.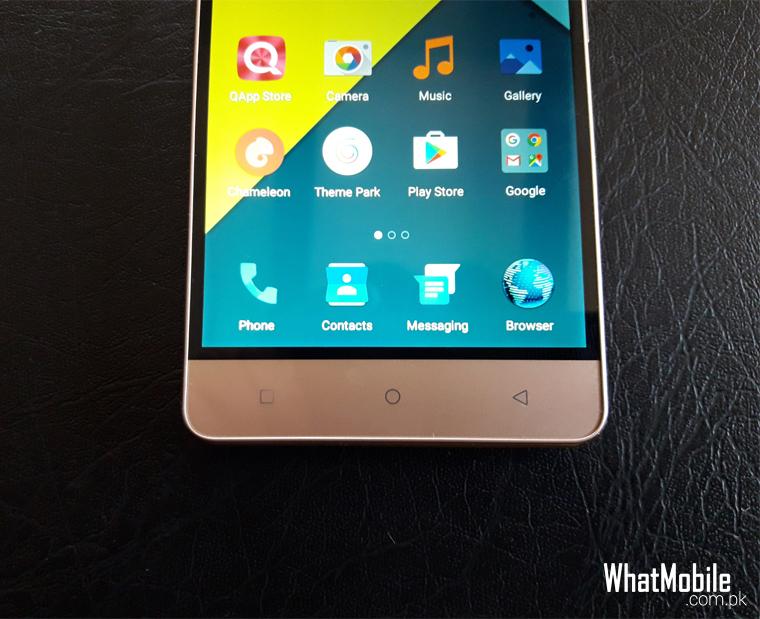 The outer rim is made of good quality metal, Gold color adds extra shine to the metal that perfectly suits the rounded edges. Back cover is made up of a non-removable sturdy plastic and provides a good grip in hand. In addition, the used material does not attract too much dirt and fingerprints. Volume and power buttons are located on the right-hand side and both are quite soft so you can easily press them with a soft touch.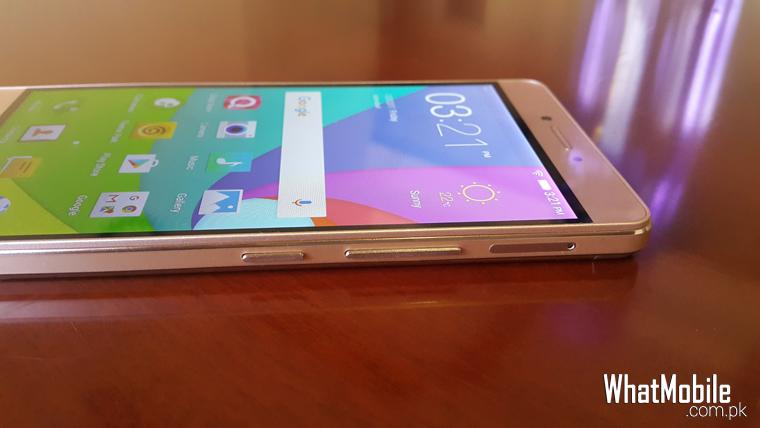 Just above the volume rocker, a dedicated micro SD card port is provided to expand the internal storage of QMobile King Kong Max. On the other side on the top left, a dual SIM slot is installed which is capable of running both SIM cards at the same time.
Infrared and the headphone jack is positioned above, while the micro USB port is placed on the bottom under the back key accompanied by the microphone.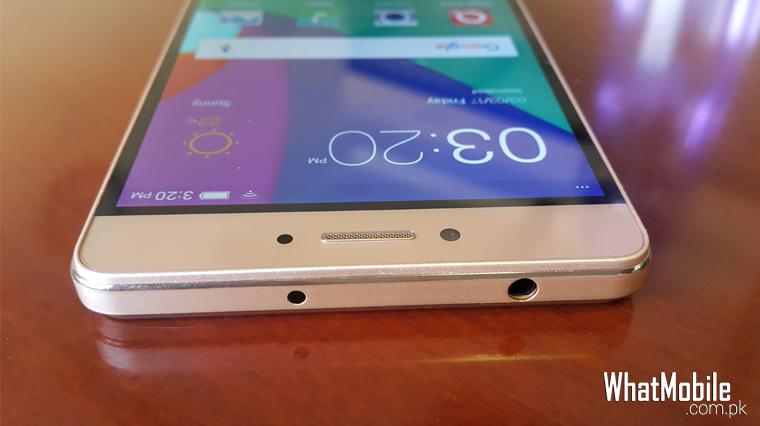 QMobile King Kong Max's Display:
In-cell display technology is used in King Kong max instead of the IPS with a 5.3 inch display that offers 1280 × 720 pixels resolution. Given display setup seems pretty decent at this price tag while the features remain largely positive. Viewing colors are natural and vivid without excelling in a deep black while contrast and viewing angles are also good. Interestingly 2.5D screen glass is quite gentle on sloping edges, but the effect is less visible if compared to phones like Galaxy S7. Display of Kong Max is protected by the Dragontrail Glass made by Asahi Japan, less effective than the popular Gorilla Glass but powerful enough to save the display from cracking.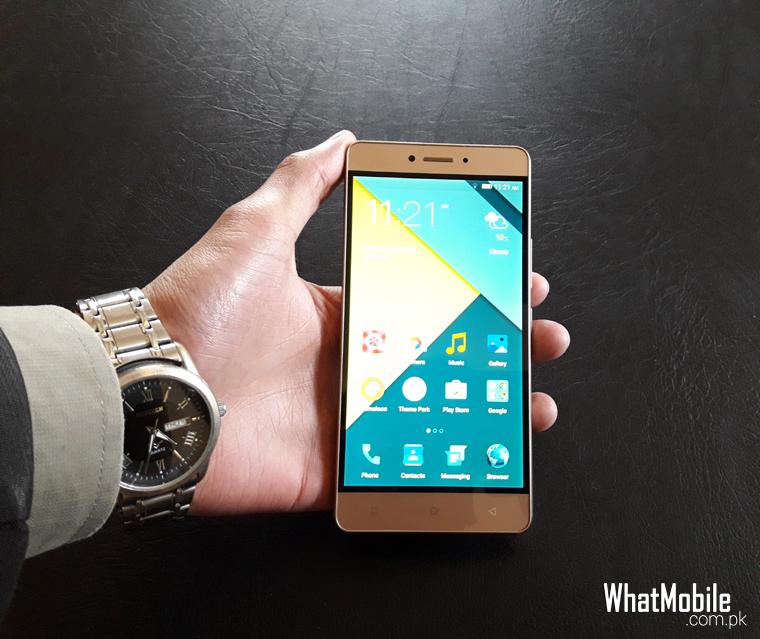 Perfect Platform for Gaming and Entertainment:
King Kong Max can be a good alternative for your mid level gaming needs. Subway Surfers types of games run smoothly. We played many Moderate graphics games like Need for Speed: No Limits and Asphalt 8 that ran constantly without causing any serious problems other than heating up.
QMobile King Kong Max is a perfect multimedia companion that delivers a superior music and movie playback. Our advice would be to use a third-party video player like VLC from the Google Play Store especially for watching long movies as it offers to play more video formats along with several customizations. The phone smoothly playbacks all the popular formats including MKV, AVI or WMV HD though Full HD clips felt a little jerky regardless of the player used; well, the chipset occasionally shows its limits.
The sound is generated via a single speaker located at the bottom of the back cover, and it is pretty decent. Slight distortion is felt at higher volumes but if keep the volume bar slightly lower than the max, you will enjoy a better and pleasant sound.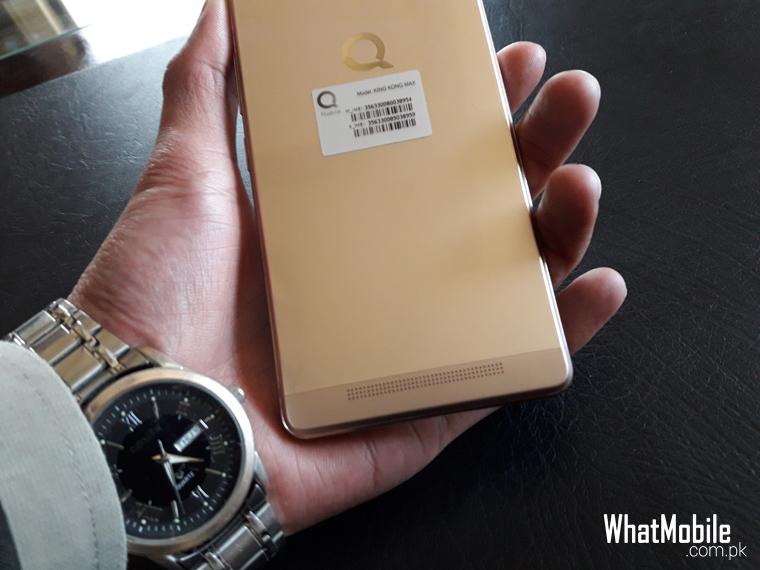 Camera:
The back camera is comprised of 13 MP sensor accompanying an easy to use snapping application. Picture quality is good, especially the in day. Auto-focus is also quite fast, now you can auto tag your images with Geo-tagging function. The results are decent, pictures are crisp and clear portraying a wide range of colors without any noise. On the other hand the situation is not too much satisfying in the low lighting conditions, photos taken in a low light have a fairly low brightness and a high saturation. Additionally, HDR feature is also provided which produces stunning results but when applied the photos take slightly longer to get saved. Last but not least, the camera is able to record the videos in Full HD mode.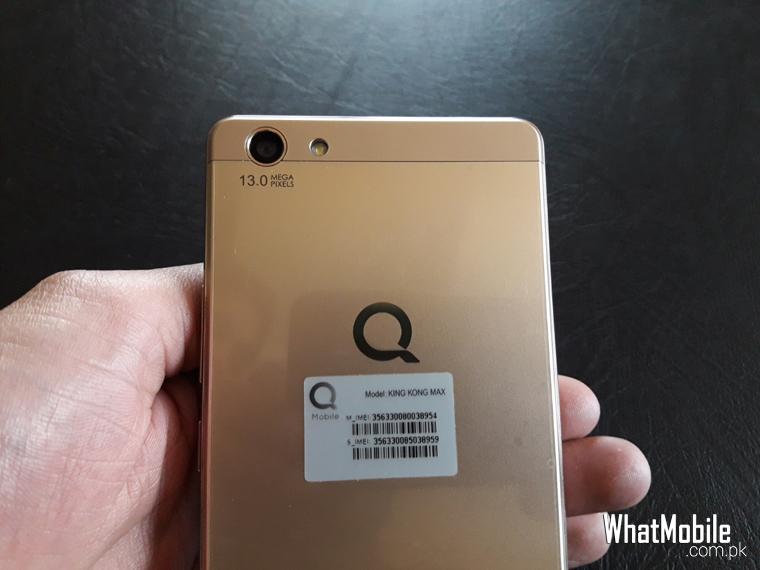 The front selfie sensor of King Kong Max is 5 megapixel which is quite responsive and super fast at doing its job. The selfie camera can also make videos at 720p. moreover, you will get many bonus features like scene modes, countdown, and selfies with sound.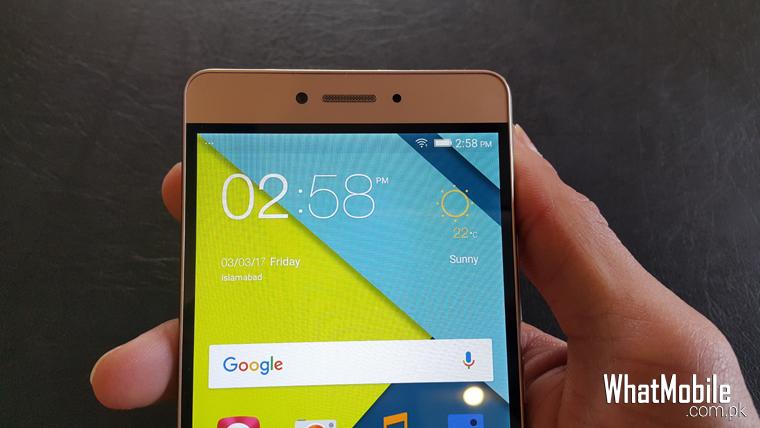 The hardware of QMobile's King Kong Max:
In terms of hardware, King Kong Max by QMobile was able to impress us not just on the paper but practically too. The gadget comes equipped with a MediaTek MT6750 chipset with an octa-core ARM Cortex A53 processor, clocked at 1.5 GHz. Graphics are fairly managed by the Mali-T860 GPU. 3GB of RAM is more than a generous offer for a mid-ranged phone and the new King Kong max perfectly utilizes the large resource. The internal memory is 32 GB and can be expanded with micro SD card up to 128 gigabytes. Our finding suggests that a relatively modest processor can also provide a fairly decent performance when combined with a large amount of RAM. Normal applications launch quickly while the most demanding ones do charge a brief moment, but overall we can say the phone is quite fluent. Below we have displayed some benchmark results that speak on the performance behalf of the phone.
Software of King Kong Max:
The user interface platform used to be provided by QMobile earlier was one of the main negative points that we often mentioned in our reviews. But things have changed quite a lot lately, King Kong Max comes with a much improvised UI that brings many new features to help you with the routine daily tasks. The phone has its own built-in themes and comes with a pre-installed launcher.
The settings menu is simple enough and you can grasp the functionalities promptly, while the number of pre-installed applications is low. For us, the most attractive aspect of the provided software package is the gestures. Not only can you switch the screen on and off by a double-tap but can perform several other activities with help of numerous other built-in gestures such as launching apps even while the screen is off. Just pre-set a gesture that represents a shape or alphabet to open any app or to dial a specific number.
Shortcuts for functions are usually present in the notifications menu but here they have positioned them on a dedicated menu activated by a swipe from bottom to top. like an iPhone.
Here we would also like to mention something that is wrong both legally and morally, in fact, the issue we faced is not new and was also mentioned during the review of QMobile Noir J7 . On your very first launch the browser asks for unnecessary permissions and If you deny even a single request then you just can not use your built-in browser as it refuses to start until you grant it all the rights i.e to access your location, contacts, photos, dialed numbers and notification access. which is a major security concern.
Battery:
One of the main attraction of the phone is its massive battery at 4,000 mAh. well, it does what it says and actually does manage to provide a standby of almost 2 days in case of a normal usage. The test included 20-30 minutes of calls a permanent Internet connection (Wi-Fi or 4G) and the use of regular apps like Chrome, Gmail, Facebook or Whatsapp. If you want to squeeze more juice out from the battery, you can always enable the Power Saving Mode that limits the access to Internet and uses a black theme. There is also an extreme power saving mode and if enabled you can only use few features including telephony, messaging, contacts and clock. All other functionalities are disabled to save battery.
Conclusion:
QMobile King Kong Max is an amazing phone with big features, and except for the browser breaching the user's privacy and some heating issues while playing games, the phone looks amazing with some serious specs for a mid-ranger. Overall the design is all perfect, and the build is good. Performance and multitasking is above average. Battery and RAM of the phone are the best features by far, at this price you just can't find a better battery and RAM that could beat the King. The Gadget unquestionably has a premium feel and finish and we are ample sure that the handset is a good bang for your bucks.
QMobile King Kong Max Video Review:
QMobile King Kong Max is now available in Pakistan. For more details regarding Specs & price please see QMobile King Kong Max Price in Pakistan
Comments