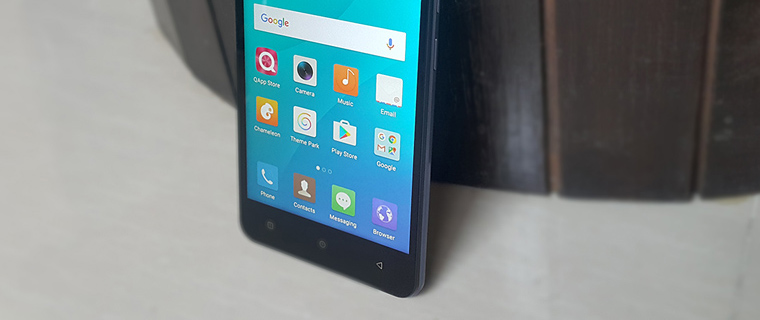 QMobile Noir J7 Review
Introduction:
QMobile is back in the business with Stylish "J series" that's truly a well-designed experience for the hand and the eye. So we thought to present you with our view of QMobile Noir J7 verifying the minimalist design and pure elegance. In the detailed review ahead, we've put our two cents to reveal all the plus and minuses of the class best J series addition. So let's just start with the unboxing.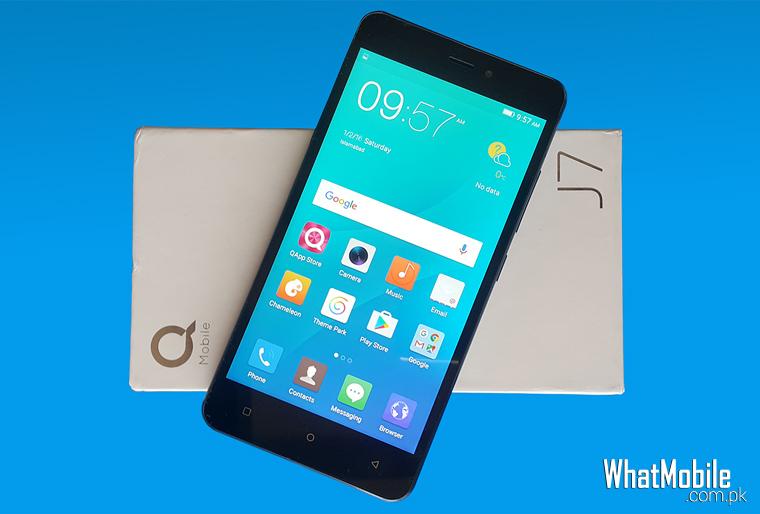 QMobile Noir J7 Key Specs:
QMobile Noir J7
Display
5.46 inches IPS display
720 x 1280 pixels, 268ppi

Processor
2.2 GHz Octa-core, Mediatek MT6595
GPU
PowerVR G6200
RAM
3GB
Storage
32GB
MicroSD
Yes, up to 128GB
Camera
13MP rear camera, LED flash, Auto Focus, Face detection, HDR, Night mode
5MP front camera
Software
Android OS, v6.0.1 (Marshmallow) + Amigo UI 3.2
Battery
3100 mAh (Li-Po, removable)
Dimensions
153.9 x 77 x 8.9 mm
184g
Click here for detailed specs of QMobile Noir J7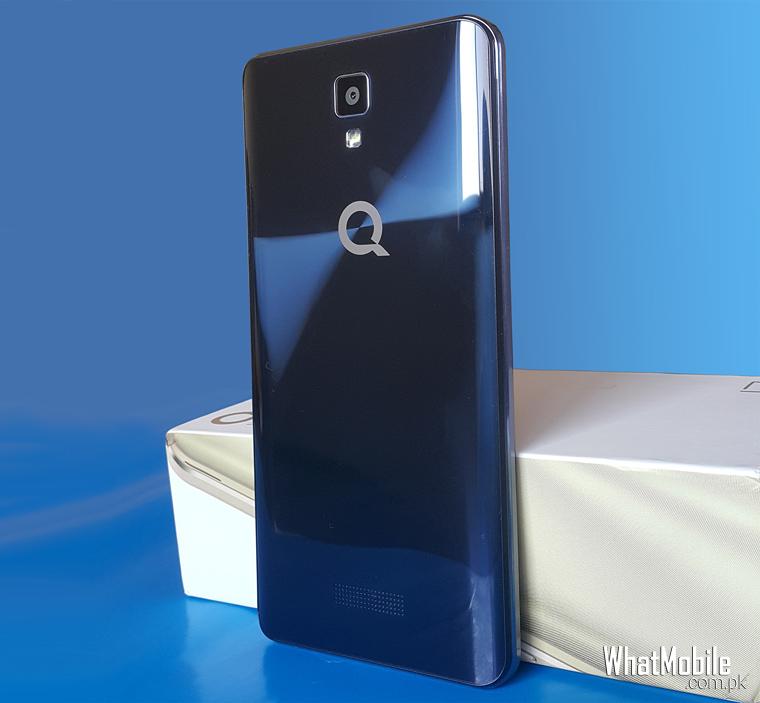 Unboxing of QMobile Noir J7:
Well first things first, device comes wrapped in an elegant and small white box on which the company logo and mobile name is engraved on two different places. As we remove the cover, the beautiful Noir J7 reveals itself up sitting on the top of all the accessories, wrapped in white see through wrapper. As we took the phone out, we found ourselves with a USB data cable, charger, battery, headphones, manual, silicon cover and a screen protector lying just below the device container in their respective compartments.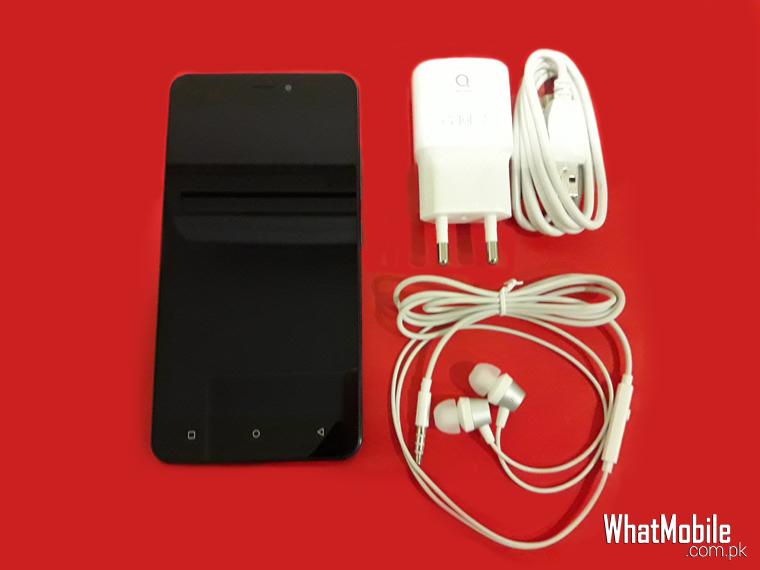 Design of Noir J7:
The phone is available in three different colors, with a glossy shine on the back easily prone to scratches. Overall the phone looks dashing and cool in hand where on the front you'll find a 5.5 inches touchscreen. The display is vibrant enough to project the natural and life-like colors saturation at the highest contrast. Dimensions of Noir J7 by QMobile are 152 x 71.3 x 8.1 mm while it only weighs 182 grams. Well, it's a bit large phone so it is hard to handle it with one hand. On the front panel function keys reside at the bottom of the screen while the speaker and front camera are placed on the top. Sensor and notification light sits on the top left corner that looks catchy and provides it with a very premium appearance.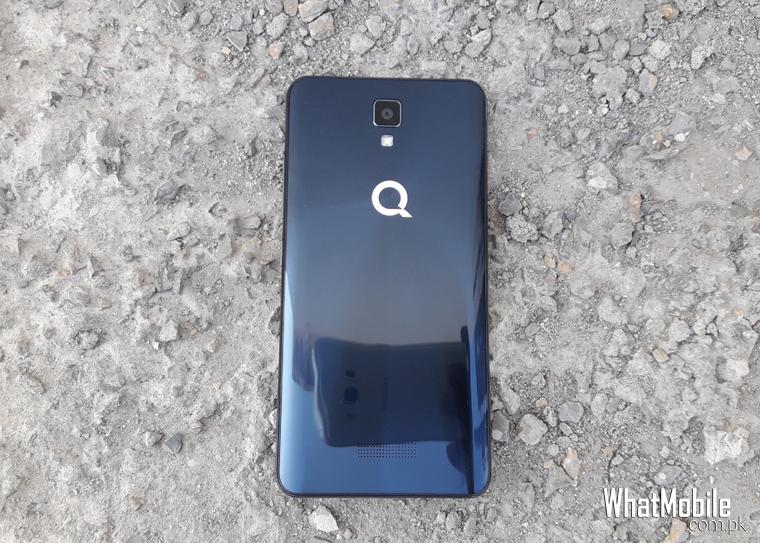 Side Keys of Noir J7:
As we move towards the sides of the QMobile Noir J7 handset, one can instantly realize the soberness as it's not too much crowded with slots and ports. Volume keys and home button are tucked inside very carefully on the right side of the device, providing a comfortable and easy access with just a single thumb press. The left side of QMobile Noir's J7 is left clean though we often see a SIM slot here. The back cover is removable and hence the SIM card slot is moved to the back just under the lid.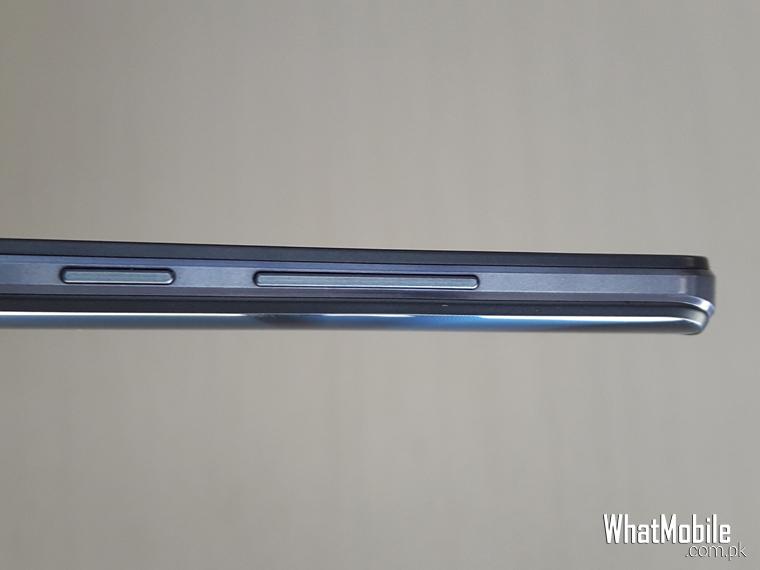 3.5 mm jack slot is stuffed On the very top so that you can easily connect the headphones on the go. And placing the jack to the top-left corner brings further advantage for those who ride bikes. Now you can easily put your phone in your pocket while headphones are connected to the gadget.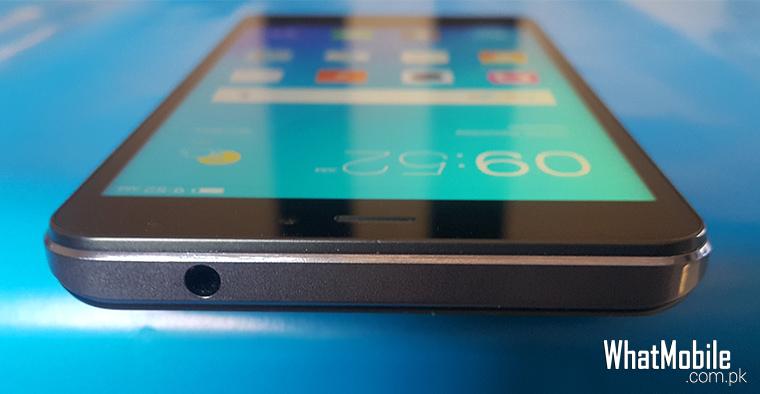 At the bottom of J7, a USB port and microphone are placed together. The main speaker resides at the back under the lid of the phone. The back of the device consists of a premium glossy finish that shines like a jewel even in low light. Though the back cover is all plastic yet shines like metal. The back camera is placed in the top middle side where LED light is stuffed just below the main camera that works perfectly while taking pictures in the dark.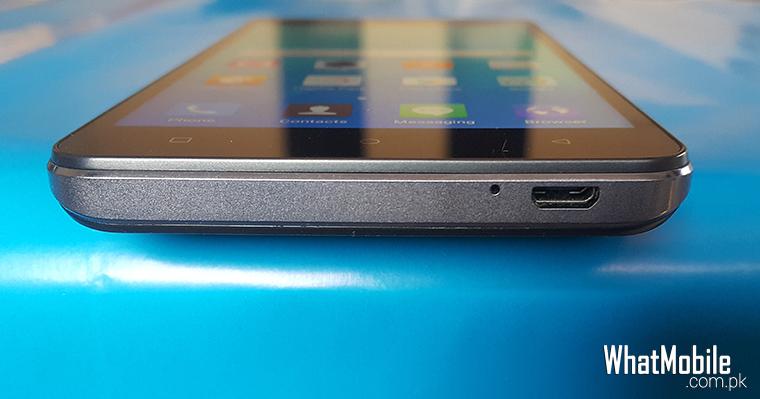 QMobile Noir J7's Display:
After design, the very next thing that people inquire about is the display of the phone. Q Mobile Noir J7 is equipped with 5.46 inches IPS capacitive display that brings you the sharpest resolution of 720 x 1280 pixels while the provided pixel density of the display is just 268 dpi. Color saturation looks fine after applying HD wallpapers. Icons with background look fabulous while the menu and icons are also admirable. Amigo UI 3.2 makes it easy to access the menu just by swiping to the right of the screen.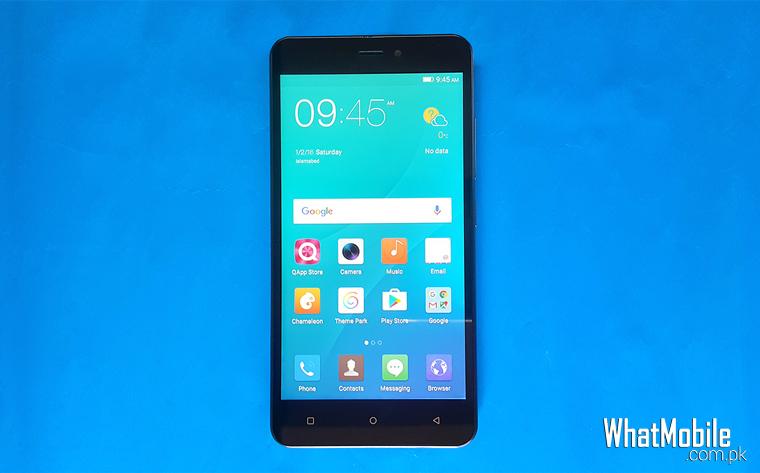 The ambient sensor comes installed in the smartphone to automatically adjust the screen brightness according to prevailing light conditions. You can also adjust the brightness manually from the menu bar of QMobile Noir J7 2016. Overall the display has the ability to hypnotize you with its dazzling looks.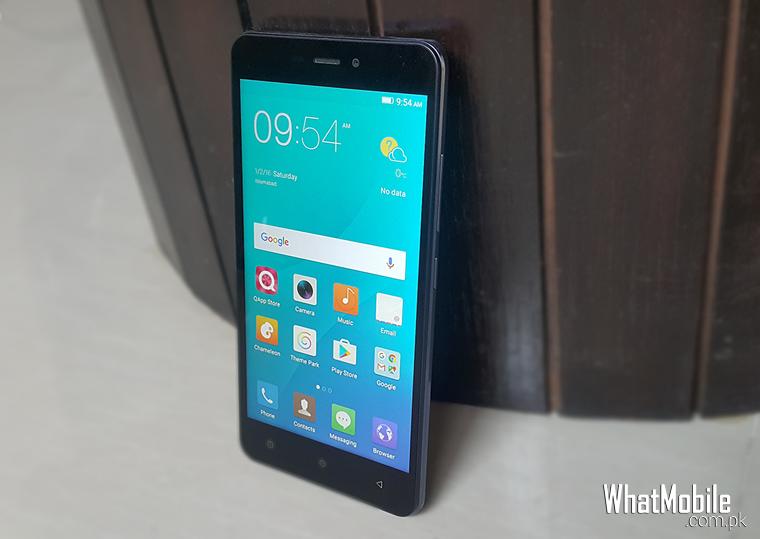 Camera of Latest QMobiles Noir J7:
Capturing clear, crisp photos with main 13-megapixel camera is easy. Back camera of QMobile's Noir J7 is 13 MP accompanied with shiny LED flashlight that illuminates when you take pictures in the low lighting conditions. In the daylight, camera works perfectly and clicks outstanding images while at the night it lacks details of the image.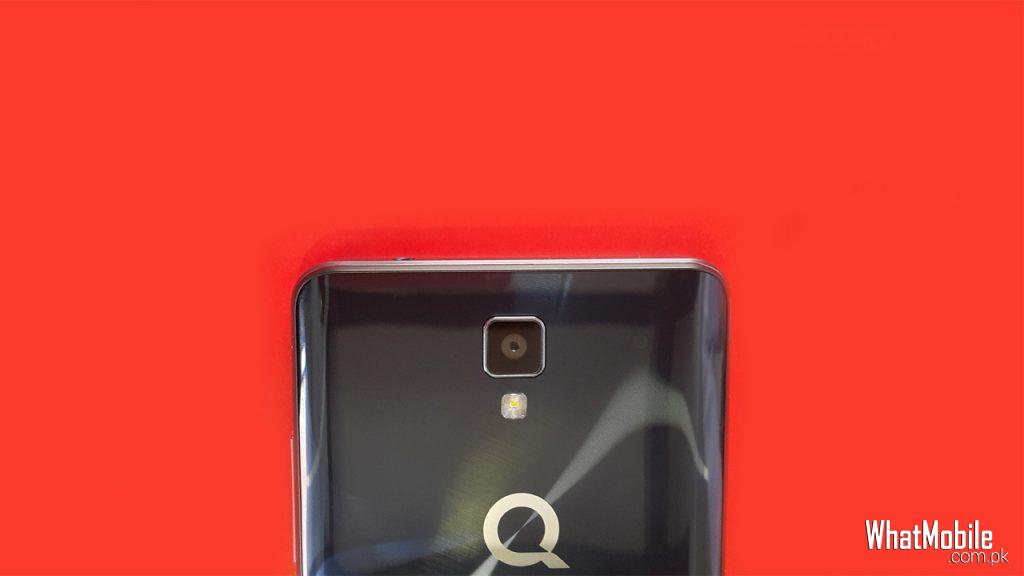 Front 5 MP sensor has a unique camera coating ensure impressive clarity and detail accuracy though some features provided in the menu don't function while front camera is active. Pre-installed color shades of front camera works perfectly well and you will be able to capture the most beautiful selfies that you can imagine. Younger generation's selfie craze has made the companies to focus on the front camera a bit more than they used to. Over all the result of the front camera is far better than the competing devices that fall in the same price range.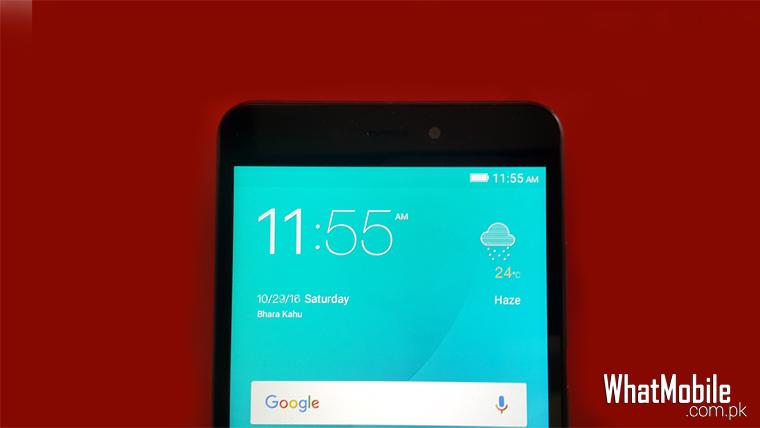 Rear cam mode carries two different menus filled with filters and effects to take your photography to the next level. Lots of different modes to select from i.e HDR, Night mode, Panorama and the list goes on. While in the second menu features like Capture mode, Picture size, Countdown, Geo-tagging etc are listed. QMobile J7 records high-definition video, which impressed us with its incredibly realistic image and detail accuracy even on the bigger screens. Your videos will surely look to be breathtaking, so enjoy the luxury of the latest camera technology and achieve good picture results even under sub-optimal conditions.
Hardware of QMobile J7:
As we all are well aware that no machine can run without suitable components, let see what this phone is made of. Noir's J7 is a combination of modernized technology that includes octa-core super fast 2.2 GHz processor, MediaTek MT 6595 chipset, Power VR G6200 GPU and 3GB of RAM. All components grouped together with a powerful processor and two days of battery life makes up a package that is unmatched in this price.
25 GB of capacious internal storage is left out of the 32 GB total while remaining storage is preoccupied with the Android OS. A micro SD card slot is also installed in the phone that can upgrade the available memory up to 128 GB. Well there certainly won't be any need for additional SD card if you are just a business user but if you are a geek or some entertainment freak, you'll have to buy yourself a separate SD Card.
We ran some tests on this Q Mobile and the results were as expected. Antutu benchmark tests are considered to be the best option for the task as you can tell the true potential and ability of any Noir device just by looking at the scores. Well, that did not go very well, our device J7 only managed to score just 58987 and ranked 35th in the competition.
Another important fact that you should know about, before going for J7 is that it heats up pretty fast. After running some test when we tried to pick the phone up it was too hot. This remains a major drawback for the new Noir so far.
Connectivity of QMobiles Noir J7:
The new J series is equipped with a variety of connectivity options. Most reliable way to stay online and keep in touch these days with is either 4G LTE, 3G or WiFi, and guess what? Well Noir J7 has all built in. Over the operator's data connection you can reach the highest speed of 150/50 Mbps, while it also has a high speed Wi-Fi that supports 802.11 b/g/n. In addition you can also convert QMobile J7 into a Wi-Fi hotspot to share your data package with friends. Bluetooth tethering allows you to share your data connection with different devices on air or you can also do it through data cable.
Now sharing large files over the air is not a big deal anymore because with version 4.0 Bluetooth modules have become very fast. Now you can transfer large amounts of data in just an instant. To transfer data to your personal computer OTG supported USB still remains to be the best option. QMobile Noir's J7 has packed dual SIM slots for you, so you can easily use the dual network on the go. Both SIM cards work simultaneously and work at the equal band power. The Noir supports all five networks available in Pakistan.
User Interface:
Latest android operating system v6.0 marshmallow is running through the veins of the Q J7. Amigo user interface 3.2 is embedded on top of it to make the display more vibrant, Noired and attractive with special themes and wallpapers. Noir J7 inherits all the plus points of the android OS by default while the entire UI menus look stunning with additional visual effects.
To decorate the home screen and menu of the QMobile further, the theme park is doing a tremendous job by providing additional themes for changing the look of J7's menu. Built-in wallpapers are also there so you can apply the custom wallpaper and themes according to your mood and choice.
The notification bar is available on the top side of J7 that comes out when you drag your finger from top to bottom. Time and date is in the notification bar. On the top right corner "Notices" tab is placed that can take you directly to the notice management setting.
The second notification bar with quick start icon is given just above the home keys on QMobile J7. You can easily switch the place of any icon by pressing hard on it and then drag it to your desired place. Separate notification and menu bar is not standard on stock android and is only featured in Amigo UI.
Application Manager:
An app worth mentioning here is the new application manager in QMobile J7 that combines several latest features at a single place to keep your phone clean and fast. With just a single app you get a cache cleaner, app manager, power manager, traffic monitor and Eco mode stuffed at one place. All of them to keep your J7 boosted so that it never gets slow down or hang on you while you are doing some important stuff.
Applications from the same vendor come separated in folders. All the Google applications on QMobile are in one folder while the games by Gameloft are in another. Kid zone is a separate application altogether that gives access to certain apps and games for kids visible only in children mode.
The biggest threat and security concern on this phone is that the Stock internet browser asks for unnecessary permissions to breach your privacy and until you grant them all it won't let you surf the internet. It totally denies from launching at all, crashes again and again if you have denied a single permission. At the end after a long fight we decided to leave the stock browser and used the Chrome browser instead (comes pre-installed on Noir J7 but is hidden in the Google apps folder). Launched instantly without a single permission request.
Battery Performance of QMobile Noir J7:
QMobile Noir J7 is equipped with 3100 mAh Li- Po non-removable battery. After a full charge, the battery lasted one and half day on normal usage. The phone is equipped with a power manager that offers three different modes to monitor the battery consumption. In the normal mode, all the functions on QMobile J7 work properly without closing anything in the background. In power saving mode the theme of J7 gets replaced by some dark color theme that adds extra four hours to the battery life. Last, comes the extreme saving mode, when enabled will limit you to only some basic functions i.e calls, messaging, contact and clock.
Conclusion:
We took a deep dive into the features and functionalities of the device and except for the browser attempt to breach user's privacy (read the text in red above) and some heating issues, the phone looks promising. Overall QMobile Noir J7's design is all perfect and glossy. Performance and multitasking are also OK. Display of the phone is the best feature by far, in this price you just can't find a better display that could beat J7. The phone definitely has a premium feel and finish and we are pretty sure that the phone is a good bang for your bucks.
QMobile Noir J7 is now available in the local market. For more details regarding Specs & Price please see QMobile Noir J7 Price in Pakistan
Comments