---
QMobile Noir M6 Lite:
Short battery life is one of the key complaints that we always hear from most of the smartphone users and that is exactly why QMobile has decided to address this grievance with the new M series. The latest QMobile Devices M6 and M6 Lite come equipped with a generous battery capacity. As we have seen earlier, the smartphone furnished with a heavy power bank& usually overruns the market charts so we think QMobile Noir M6 lite is going to rock too. The new handset packs enough battery juice to last for more than two days. As we know phablets are the most energy consuming devices because of a larger display so needed to be charged daily. Our hero does not fall in phablet category so it does not consume too much battery juice that's why there is no need to connect it to the charger daily. Just in case if you prefer watching videos over a written content and are not into reading the lengthy reviews then you can watch the Video Review below discussing each point in detail.
Also Don't forget to subscribe to our YouTube channel:-

The new M6 Lite by QMobile has a display size of just 5.0 inches, not too big and not that small yet the manufacturer claims it can reach up to a standby of 3 days if your usage is nominal. During the two weeks of testing, we tried to see if promises can be translated into the reality. We've also analyzed the performance of the phone in numerous other departments and our founding is listed below.
M6 Lite Key Specs:
QMobile Noir M6 Lite
Display
5.0 inches, IPS display
720 x 1280 pixels, 294 PPI
Asahi Dragontrail Glass
Processor
1.3 GHz Quad Core, Mediatek MT6737
GPU
Mali-T720MP2
RAM
3GB
Storage
16GB
MicroSD
Yes, up to 128GB
Camera
13MP rear camera, LED flash, Auto Focus, Phase Detection, HDR, Panorama
5MP front camera
Software
Android OS v6.0 Marshmallow
Amigo OS 3.5
Battery
4000 mAh, Removable
Dimensions
145 x 72 x 9.9 mm
182g
Click here for detailed specs of QMobile Noir M6 Lite
QMobile M6 Lite Design:
For a phone with a price tag of just 15,900 rupees, M6 Lite really did surprise us with its build quality. The body is made up of a high quality plastic material yet the overall construction and finishing provide a solid metallic impression.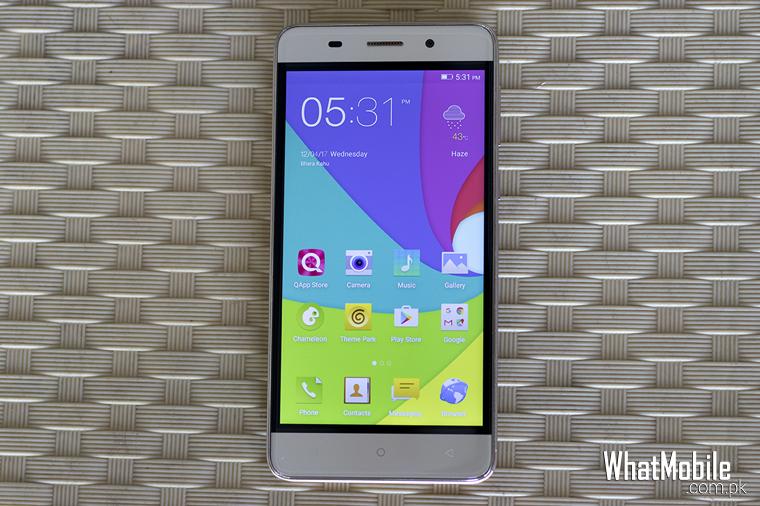 The front is dominated by a 5.0 inch IPS screen, whilst three capacitive keys are laid just below it for multitasking, back, and home key.
Volume keys and power button is located on the right side.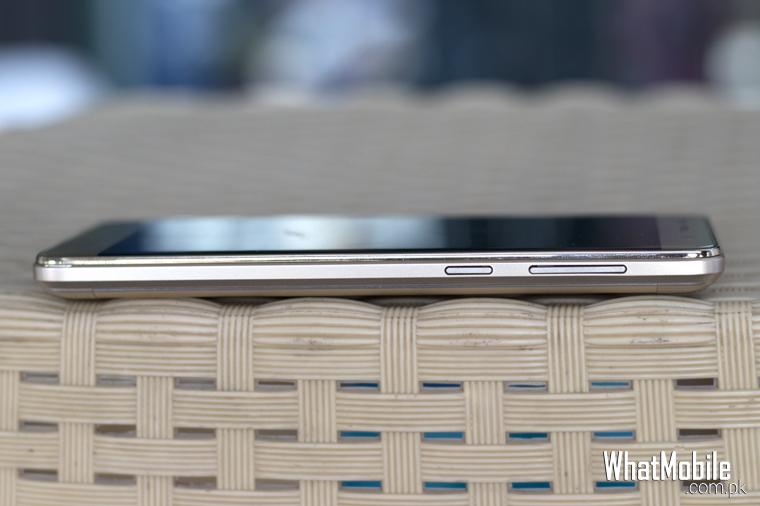 Headphone jack is positioned above while the micro USB port is in the bottom right under the back key.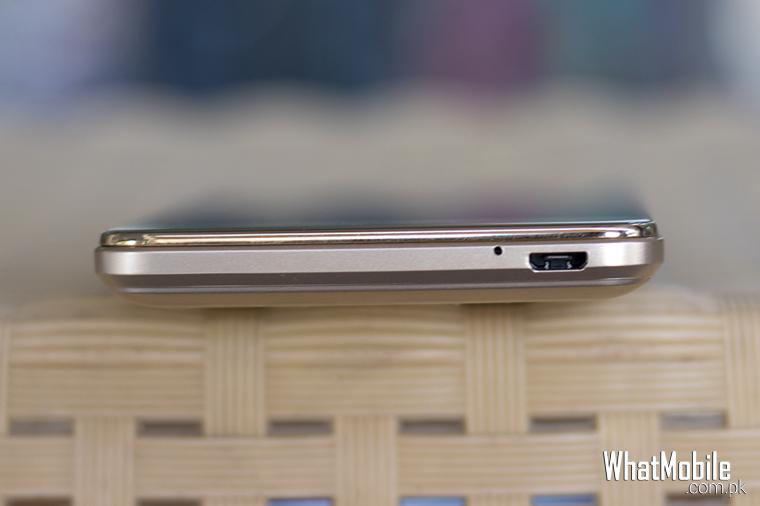 Back cover edges are rounded in a more aggressive way as compare to the Samsung Galaxy S7 so it provides good grip in hands. In addition, the back cover looks sturdy and does not attract too much of fingerprints and dirt.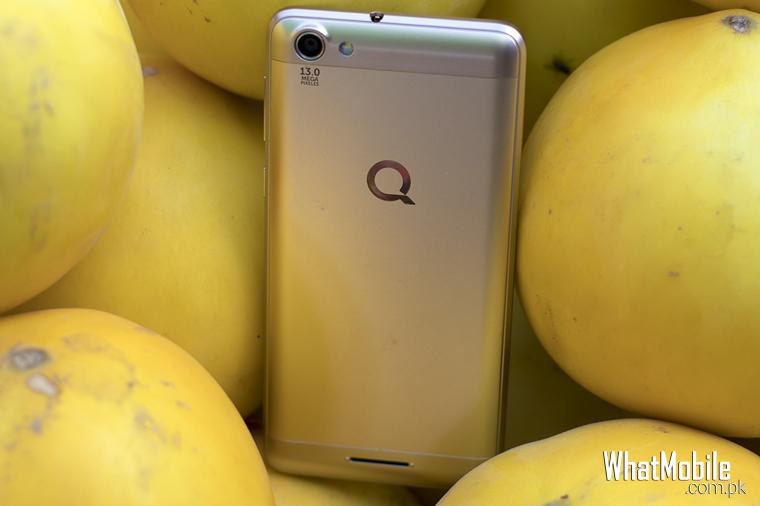 Although at a first glance device seems to be a unibody but in reality, the back cover is detachable with a removable battery, SIM slots and memory card slot inside.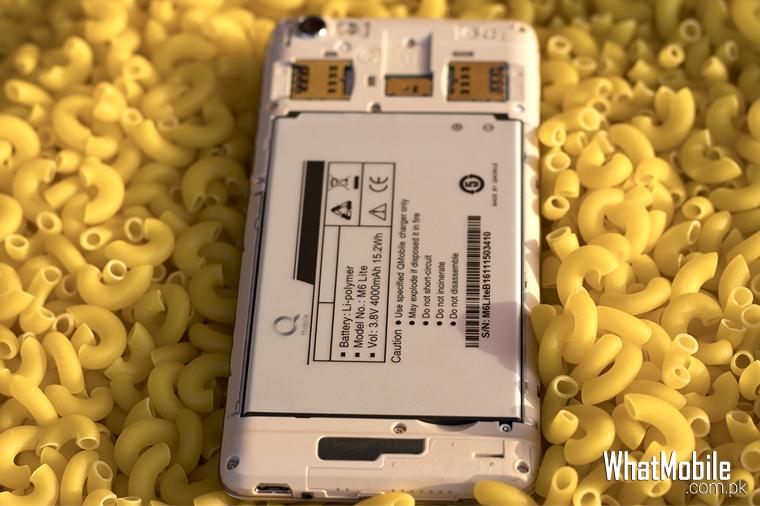 Noir M6's Display:
IPS display technology is used inside the 5 inch screen that offers an HD resolution of 1280 × 720 pixels. Our experience is largely positive and we believe that it's quite a decent offer in this price segment. Colors are natural but without excelling deep blacks as it lacks AMOLED display. Contrast is just about right and the viewing angles are also good.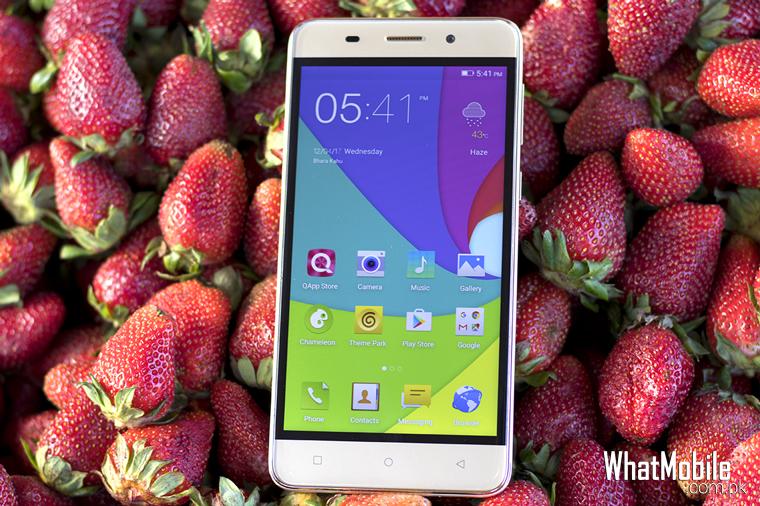 Interestingly a 2.5D glass is installed on top of the screen that provides a gentle slope to the edges. The curved glass effect is less visible as compare to a phone like S7 Edge but its there. What is worth mentioning is that the display comes protected by Dragontrail Glass made by Japan's Asahi. Dragontrail is tough but not that much effective as of a Gorilla Glass but it does its job well is mainly used on budget phones like QMobile Noir M6 Lite.
Hardware Of M6 Lite:
In terms of hardware, M6 Lite by QMobile may not look much impressive on paper but it can easily keep up with the needs of an average smartphone user. The gadget is equipped with a MediaTek MT6737 chipset combined with a quad-core ARM Cortex A53 processor clocked at 1.1 GHz. A similar processor is also available in Qualcomm's snapdragon family i.e the Snapdragon 410 but with slightly higher clock speed as it reaches up to 1.4 GHz. Mali T720 MP2 Graphics chip from ARM is used to cater its gaming performance. As we move towards the memory compartment, 3 GB of RAM is more than a generous offer in this segment. The internal memory is 16 GB and can be extended with up to 128GB with help of a micro SD Card. Such a relatively modest processor is when combined with a large amount of memory, it manages to provide a pretty decent performance in everyday usage. Simple applications launch instantly while the demanding heavy apps take some time while starting but there are no lags when the app gets loaded. In general, the M6 Lite is quite fluent.
Sound & Multimedia:
QMobile's Noir M6 Lite is a perfect multimedia companion which is suitable for playing all kind of music and movies. Built-in multimedia player have wide variety of codecs pre-installed that can easily play most of the videos but we would recommend you to install a good third party media player from the play store as in some cases it is not able to decode the video correctly and only audio gets audio played while in some cases it is not able to recognize the file format at all. Overall my experience went quite well after installing the VLC player.
Loudspeaker is placed under the back lid and it produces quite a loud sound. At high levels distortion can clearly be heard but as we slow down the music to a more moderate level sound become much clearer and pleasant.
Gaming Experience:
We tested the phone with numerous games and there were very few lags in some demanding games. Subway Surfer, Temple run 1 and Temple Run 2 ran real smooth. As we moved towards the games with moderate graphics like Need for Speed: No Limits, Asphalt 8 and Blood and Glory we faced some jerks in the start but the overall experience was satisfactory.
Benchmark Results:
We took some benchmark test and results were quite good and far better than our expectations. Here we put screen shots of our results to show you the obtained scores that we got from the benchmark test.
Software of QMobile M6 Lite:
User interface platform provided by QMobile is pretty good and we faced no hurdle while navigating through the menu. Lots of enhancements and tons new features are added to the software that will help you to organize your stuff in a proper way. Amigo UI 3.5 is the name of the interface used on top of the Android OS that gives you this improved user experience. User Interface brings some amazing extra features that are not available in stock Android OS v6.0 marshmallow.
Chameleon and Theme Park are two additional apps that play an important role in the decoration of your home screen and menu. Kid Zone is also added that will help you limit the access of children to specific applications only that you will authorize them to use. If you are a game lover then Gameloft brings you built-in trials that can become a perfect companion in your pleasure time.
Settings menu is much more simplified now while the notification bar is also divided into different categories. To instantly access the basic settings a separate bar is used that shows up on swiping the screen from bottom to top. Notification and action bar becomes visible on swiping the finger from top to bottom which is quite common in almost all of the Android devices.
QMobile M6 Lite's Camera:
Back camera of QMobile Noir M6 Lite relies on 13 megapixel sensor and a simple and easy to use application. We snapped several images in the daytime and the results were quite good. Camera was responsive in capturing and saving images while autofocus was also accurate. Image quality was good, full of colors and brightness was also according to shots taken. For an average selfie lover 5 MP camera is perfect but those who want more detailed pictures and color saturation, this phone is not made for you.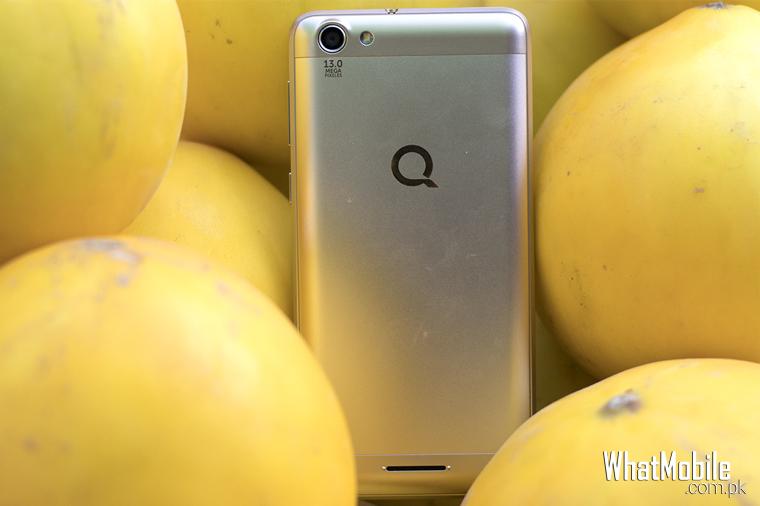 HDR feature is also provided in the camera app that adds significant details to the images quality. You'll only understand the difference when you compare a normal photo with HDR mode photo side by side. In HDR mode some pictures take too much time to save but you'll ignore it for sure after seeing that amazing final result. The back camera is also capable of recording video in FHD mode which is a good thing to have.
Battery:
As we have already mentioned in the start that the large battery is the main attraction in QMobile Noir M6 Lite. 4,000 mAh is a reasonable amount of battery that easily lasted for 2 days in our normal usage. During this time period, Wi-Fi and data connection were active and we also made 20 to 30 minutes of calls. It does its job quite well while living up to the claims made by the Q Mobile. The M6 lite smartphone does provide a good battery time while using regular applications like Chrome, Gmail, Facebook or Whatsapp.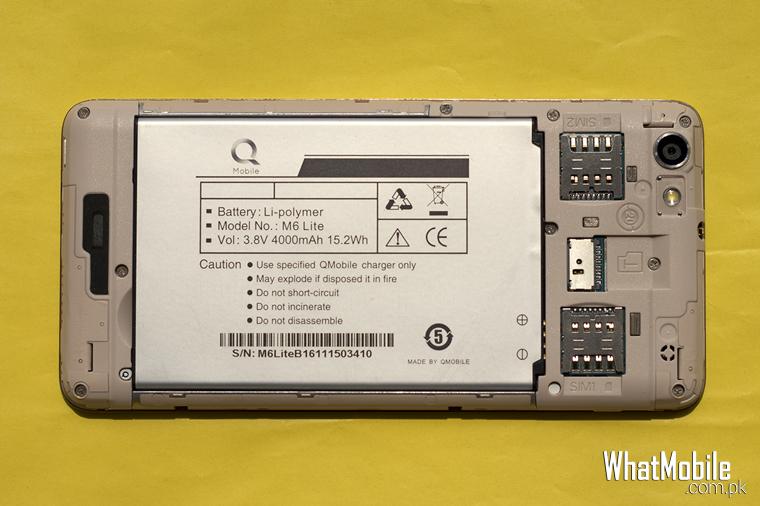 In situations when you want to increase the battery timing of QMobile's M6 Lite, you can activate the Power Saving Mode that will limit your access to the internet while activating a black theme. Extreme Power Saving Mode will take the things to a further extreme level and you would only be allowed to use four features. All other functions of the phone will be disabled.
Conclusion:
QMobile Noir M6 Lite has a long list of good features but as we know there's nothing perfect in this world and with Pros some Cons do exist. Let's First round up the cons that includes a 4000 mAh battery which is also the main attraction. Next comes the built quality and display of the device. No doubt both of these are outstanding. The hardware section is almost compatible with today's prevailing trends. Lets come to the Cons now, the very first defect that we found in the design is that its back cover does not come off easily. We removed the back cover after a long fight to place the battery inside. There are some drawbacks in software like unnecessary permission request from the built-in stock browsers of QMobile as we have mentioned in all our previous reviews. Overall user experience was good so one can easily recommend this phone to an average day to day user.
QMobile Noir M6 Lite is now available in Pakistan. For more details regarding Specs & price please see QMobile noir M6 Lite Price in Pakistan
Comments